Snake house: Owner arrested after nearly 400 dead pythons found in home


By Ruben Vives

Los Angeles Times

LOS ANGELES -- An elementary school teacher who was arrested Wednesday after police discovered as many as 400 snakes inside his Santa Ana, Calif., home may have been lonely after the death of his mother, neighbors said.

William Buchman, 53, was arrested on animal cruelty charges after police served a search warrant at the home and discovered the pythons, all but two of which were dead and decaying.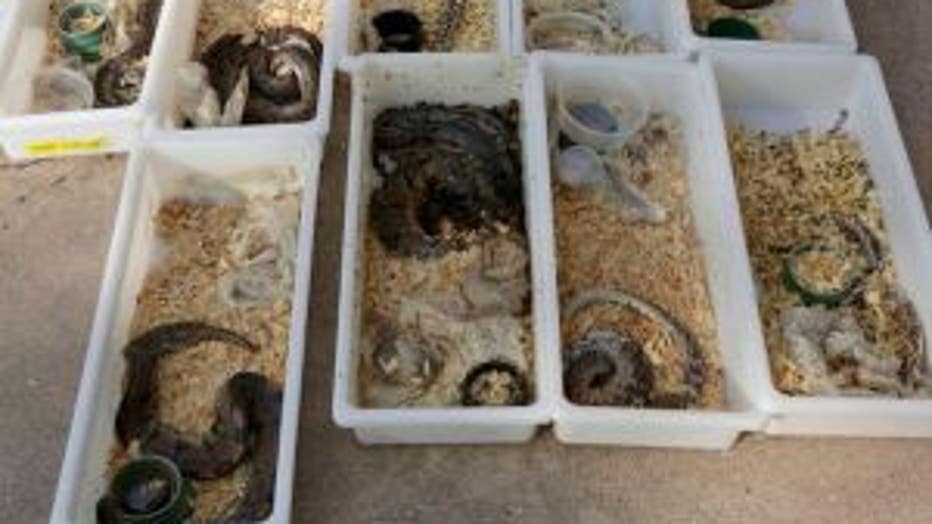 Officers served the search warrant at a home in the 2900 block of Fernwood Drive after the Police Department's animal services section received complaints from neighbors about a foul odor coming from the home. (Photo: ( Irfan Khan / Los Angeles Times


Neighbors had been complaining to police about a stench at the house in the 2900 block of Fernwood Drive for several months.

"We thought someone was dead," said Forest Long Sr., 62, who lives next door. "We couldn't open up the bedroom windows. My wife started to gag and throw up."

Santa Ana Police Cpl. Anthony Bertagna said he was standing about 200 to 300 feet away as officers were executing the search warrant and could smell the stench.

It smelled like "death," Bertagna said.

Bertagna said police had previously tried to talk to the homeowner, but were unable to make contact.

Animal control officers began building a criminal case against the man about a month ago and served a search warrant as part of the case, Bertagna added.

Bertagna said the snakes were found throughout the house. By mid-morning, authorities had only searched one room of the house.

Long said the Buchman -- a teacher at Mariners Elementary School in Newport Beach -- became increasingly reclusive after his mother, a retired teacher, died a few years ago. "We didn't see him much," Long said. "Maybe he became lonely."

Neighbors knew that Buchman raised snakes and that a delivery man regularly brought mice to the house.

"We called him the rat man," Long said.

Long said his wife is relieved that no bodies were found in the home and that they plan to throw a party and open up the windows.