Smoke clearing in Western Washington as marine push brings rain showers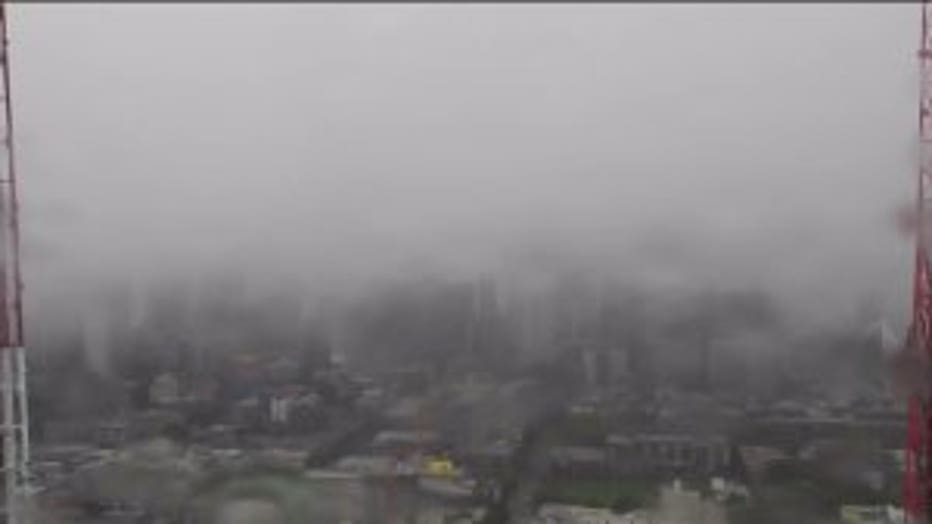 A view of downtown Seattle from Q13 FOX's tower cam.


SEATTLE -- Air quality conditions are improving in the Seattle region after days of unhealthy smoke and haze but officials warn it's not over yet.

The National Weather Service has had an air quality alert since Sunday and it remains in effect until noon Thursday.

The Puget Sound Clean Air Agency reports the smoke has begun clearing for much of the area. Seattle, Bremerton, Tacoma, Olympia, and Centralia were reporting green dots which means good air quality.

A few areas on the eastside and south to Renton, SeaTac and Auburn were registering yellow or moderate air quality.

Puyallup and North Bend remained unhealthy for sensitive groups. And Everett was registering as very unhealthy.

The stage 1 burn ban was to be lifted at 1:00 p.m. Thursday for King, Kitsap, Pierce and Snohomish counties, the Puget Sound Clean Air Agency said.




Outside of the metro area, an industrial fire in Shelton caused toxic smoke to release into the air late Wednesday night into Thursday morning.

Q13 News Meteorologist Katie Boer is answering your questions about the smoke.

Where did the smoke come from?

The fires in British Columbia have funneled a lot of smoke into our area for days. But let's be clear--the smoke hasn't been pushed JUST into Western Washington. As it's pushed south into our neck of the woods, we've also seen plenty of smoke just offshore... so as we see all these winds pushing onshore, those winds are also pulling with it some of the smoke that was over the ocean. Gradually the skies will keep improving.

Will the smoke return?

Sadly yes. Winds begin turning northerly again late Saturday and Sunday which could bring more smoke back into the area from British Columbia.

Any more rain in the forecast?

The rain chances are around, but slight for the late week and first have of the weekend. However, models are trending slightly drier now for Sunday and Monday.