Small business owners say $15 minimum wage could cripple them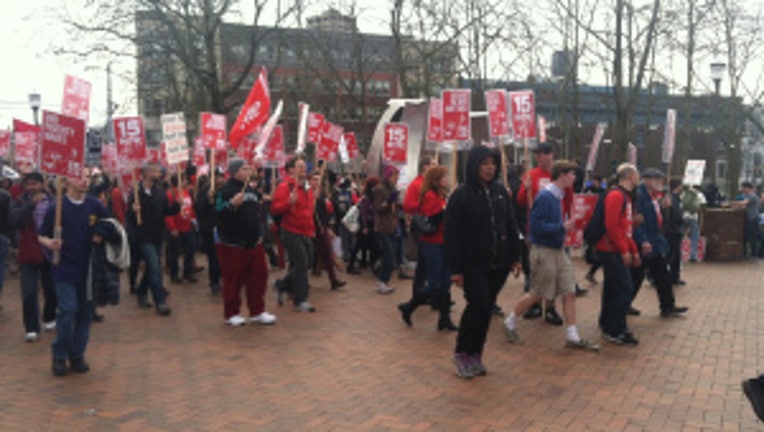 article
SEATTLE - The fight for $15 minimum wage could be headed to the ballot this November if the Seattle City Council does not approve it. Saturday's rally attracted hundreds of people. The march started at Judkins Park and ended at Seattle Central Community College.

The support in Seattle is getting louder and louder but there is always the other side, many small businesses owners say a wage increase would cripple them.

The rallies keep growing and every time they march, supporters believe they are getting closer to $15 an hour.

"You want to go to school, you want to get better at this and do more of this you don't have time with $9," Jamaar Smiley said.

"If I am making $15 an hour I can actually go to eat at my favorite small business," Caprice Procarione said.

From the podium they took verbal jabs at big corporations.

"They keep recycling the same lies about how businesses will shut down and jobs will be lost over night," Seattle City Council member Kshama Sawant said.

Sawant was the only council member at Saturday's rally, she wants big companies to foot the bill for small businesses.

"They should pay $15 and they should be taxed because look big business taxes are at a historic low," Sawant said.

When it comes to small businesses, Sawant has a new plan.

"We are proposing $11 an hour if small businesses think they can pay $12 an hour that is great," Sawant said.

She says small businesses can start at $11 an hour and gradually increase their wages to $15 in a span of 3 years.

But small business owners want to know where the money will come from.

Robin Bartlett-Smith owns the Trading Musician. She says she would love to give her workers raises but now is not the time.

"We are pinching pennies and trying to make a go of it as it is we are trying to keep people employed," Smith said.

She's already juggling with vacation, sick time and health care costs and a wage increase is too much at once.

"Raising to $15 an hour for everyone along the line hurts just the small businesses," Smith said.

But supporters are not backing down, they want $15 by next year.

Seattle Mayor Ed Murray is behind the $15 minimum wage. He released a statement on Saturday.

"Our focus remains on reaching a solid minimum wage policy recommendation through the Mayor's Advisory Committee and passing it through City Council by the end of June. This Committee is the only place where business, labor, non-profit leaders and worker advocates are all at the table. Seattle is leading the nation on this issue. We have a tremendous opportunity to help workers without harming businesses and serve as a model for the rest of the nation."

But many are not waiting around for government they want the issue on the November ballot. They will need to collect more than 20,000 signatures by June to make that happen.