Skokomish River above flood stage, water surrounds homes


POTLASH, Wash. -- In Mason County, there is water as far as the eye can see.

The Skokomish River and Purdy Creek usually run parallel four miles south of Potlatch but now both are overflowing and they have merged into one raging body of water.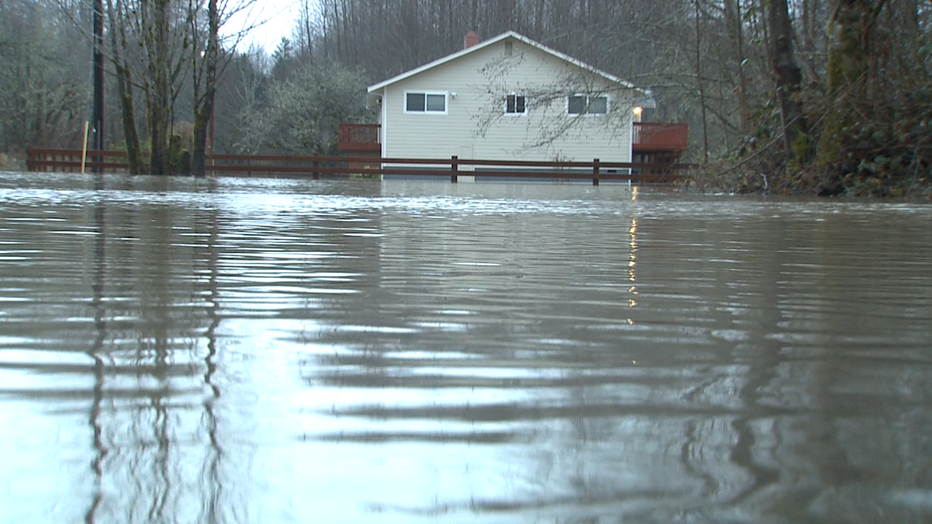 A home surrounded by water in Mason County. (Photo: James Lynch/KCPQ-TV)


"It's shocking.  I didn't think anything like this existed around this area. It's unbelievable. I would think it's going to get worse with all this snowpack, with this rain if it continues, but it's pretty amazing," neighbor Debbie Kirpes said.

Amazing is not a word people living close to the river would likely use.

Homes are surrounded by water so deep they are accessible only by boat and no one knows what the owners will find once they get back inside.

Longtime residents say it's as bad as they've seen in a long time and they fear it will get worse before the water begins to recede.

"I've noticed it come up substantially today. It's probably five feet over the road down here. Depending on if the rain stops, probably a couple of days. But I've heard it's supposed to keep raining,  so," neighbor Josh McCoy said.

Flood stage on the Skokomish River at the town of Potlash is 16.5 feet but it was expected to crest at 17.4 feet early Thursday evening.

Pasture lands are flooded and the water quickly submerged West Bourgault Road and Skokomish Valley Road.

Two drivers tried to drive through flood waters on Bourgault Road but had to quickly retreat to escape the Skokomish.

"It's a little deeper this year than usual, so just tried to get through to get home so now we have to go back around," neighbor Matthew Brown said.

"When I opened my door it was already here and I still had three feet to go," neighbor Debbie Brown said.

So, as they prepare for bed, the hope is they will wake in the morning and not see such much water surrounding their homes.