Sketch released of suspect in violent home invasion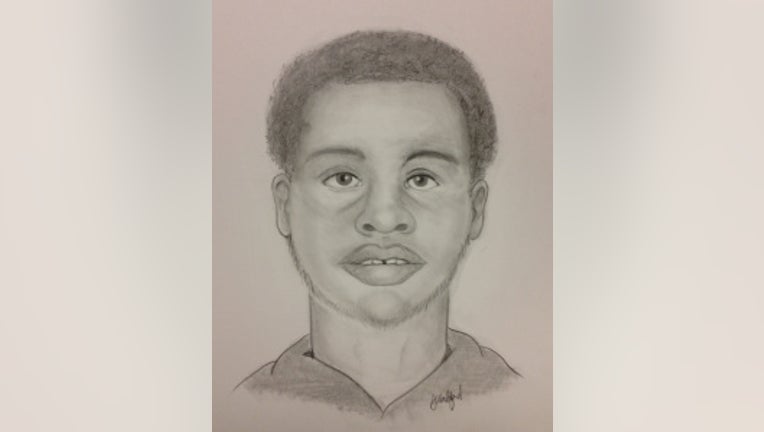 TOP HAT -- The King County Sheriff's Office on Friday night released a sketch of one of two men believed to have been involved in a brutal home invasion in the Top Hat section of unincorporated King County in which a man was pistol-whipped in his home and his girlfriend was sexually assaulted Monday night.

The sheriff's office said one was described as a black male, about 5-foot-9, 195 pounds with a 'buzz' haircut and the other was a black male about 5-foot-5, 180 pounds wearing a gray zip-up shirt, blue jeans and a black belt

Residents on Tuesday were still shaken by the violent home invasion a night earlier when a man was pistol-whipped by two men in his home and his girlfriend was sexually assaulted. The home was initially erroneously reported as being in Burien, but the sheriff's office said it was in Top Hat, which is just south of Seattle and just north of SeaTac.

"Man, I don't know, man. You can't do that to people, man," family friend Al Smith said.

Two men forced their way into a man's Top Hat apartment at gunpoint Monday night, pistol-whipped him, sexually assaulted a woman inside and ransacked the place, the King County Sheriff's Office said.

The  home-invasion assault happened at about 9 p.m. in the 10800 block of 6th Avenue South in unincorporated King County, a spokesman said.

A man was coming home to his triplex apartment when he was approached by two black gunmen ages between 19 and 25, he said. The men then forced him inside and he was pistol-whipped at some point. A woman inside was sexually assaulted. An 18-month-old baby was sleeping inside, but was not hurt, police said.

The man and woman were taken to the hospital.



Family members and friends said Tuesday they still can't believe what happened to a couple inside their own home.

Smith said, "I saw it on the news so I came over here as fast as I could but nobody is here, they're not answering their phone so I just don't know what to do."

That feeling of hopelessness is all too common in the Burien neighborhood after their own neighbors were brutally assaulted by two gunmen.

"Well, that sounds scary because sometimes I'm here alone and it can happen to anyone," neighbor Elizebeth Gonzalez said.

Police have vague descriptions of the suspects but no leads.

They've tried to develop composite sketches of the suspects but so far unsuccessfully.

Now they're hoping someone will call in a tip before these men strike again and someone else gets hurt.

"It makes you very fearful for your family and makes you want to take extra steps and protect them. It really does, I mean, it's a bad situation," neighbor Tim Schrader said.

So Schrader and his wife, Beth, are taking every precaution to protect each other.

"It was very scary and we do have some kind of a gun in the house and we went and got it and set it on the coffee table and said, Hey, if anybody knocks on our door," Beth Schrader said.

Police are asking for the public to call 911 if they saw something or if they know the two men who may have been involved in the attack.