Sixth-grader accused of bringing gun to school curses judge, security officers in court
VANCOUVER, Wash. (KPTV) -- An 11-year-old boy accused of taking a gun and 400 rounds of ammunition to his middle school erupted with profanities in court Tuesday and cursed at the judge when she ruled that he is a danger to himself and the community and will remain in custody.

After Juvenile Court Commissioner Jennifer Snider announced her decision, the sixth-grader cursed at Snider, grabbed a table where defendants stand at the bench and refused to leave the courtroom. Security guards and the boy's attorney eventually escorted the boy out of as he called the officers a variety of expletives.

"Don't (expletive) touch me," the boy screamed, according to The Columbian newspaper.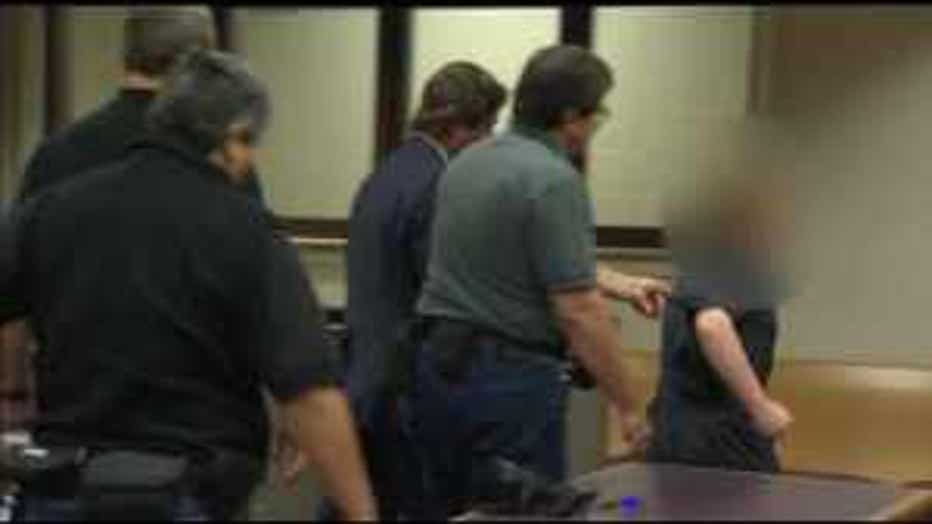 Boy being escorted out of Juvenile Court Tuesday. (Photo: KPTV/Portland)


The boy was taken into custody at Frontier Middle School last Wednesday, Oct. 23. His mother called the school to report her son may have taken kitchen knives to school. Once detained, school resource officers said they found a .22-caliber handgun and ammunition in the student's pockets. Knives were found in his backpack, police said.

Detectives interviewed school administrators, and were told the boy said a voice in his head was telling him to kill a classmate for calling his friend "gay," according to court documents.

In a later interview with police, the boy told detectives he planned to shoot his classmate in the arm, and then shoot himself in the head.

In court Tuesday, prosecutors said the boy confessed to stealing the gun Oct. 17. He also said he brought it to school Oct. 18 and Oct. 21.

The defense attorney, however, said the gun had been disabled by his parents and was not operable.

A doctor told a judge Tuesday that the boy has a long history of outbursts that have been increasing recently. The doctor stated the child is easily irritated and does not possess coping skills.

The doctor also said three mental health professionals warned the parents to secure their home before this incident.

The parents did not speak in court, but were visibly shaken and crying. The father briefly tried to comfort the boy when the judge ruled he would remain in custody, before giving up.

Originally facing the charge of attempted murder, the boy is now charged with attempted assault, unlawful possession of a firearm, and possession of a dangerous weapon on school facilities.