Shootings, small damages reported in postgame celebration
SEATTLE -- Fans took the streets in celebration of the Seahawks blow out victory over the Broncos last night.

A big gathering in Pioneer Square finally came to and end shortly after midnight when police in riot gear and horses moved into the area. There were a few rowdy fans who caused some damage, but nothing major, police said.

The Seattle Times reported two people were shot Sunday night, but it was unclear if the shootings were connected to the postgame celebration. One man was shot near the intersection of First Avenue and Cherry Street, and another on Alaskan Way South. Both victim's of the separate shootings were transported to Harborview Medical Center with non-life-threatening injuries.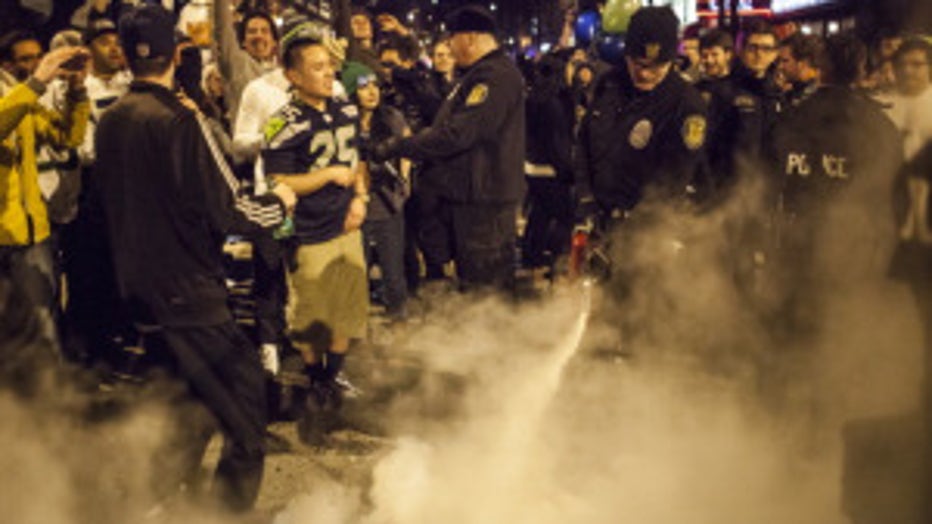 A Starbucks near 1st Avenue South and Yesler Way had a window knocked out and graffiti sprayed on a pillar in the front.  A small fire was also reported in the area along with blue and green smoke bombs going off.

In Occidental Square, panes of glass were smashed on the pergola when fans climbed on the structure that was built back in 1904. Someone also wrote graffiti on a couple of the pillars, police said.

Revelers in the University District lit a couch on fire and surrounded a bonfire on Greek Row. One man was reportedly arrested for starting the fire and could be charged with reckless burning.

City crews are out in force cleaning up the mess left behind.  A lot of broken bottles and empty beer cans line the streets near Pioneer Square. Street sweepers are also helping to clean up the trash.

All in all, there was no major incidents that involved fans being arrested.

Police are hoping the Super Bowl victory parade on Wednesday will also be jubilant, but respectful to other fans surrounding businesses.