Sherman's post-game comments didn't bother fans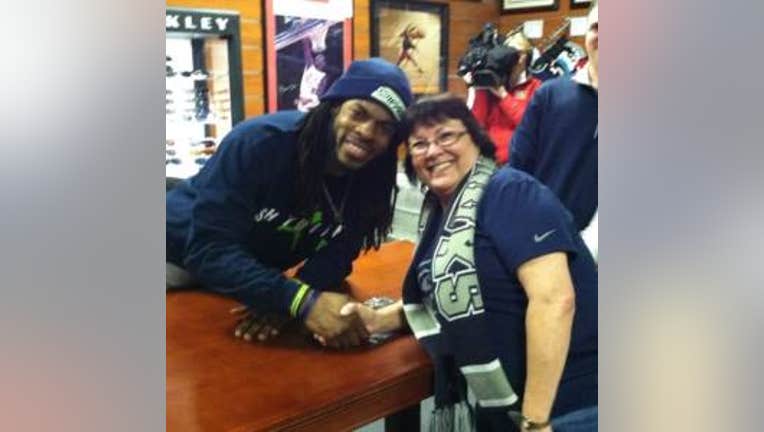 MILL CREEK -- Richard Sherman has been the most talked about player on the Seahawks, since he spoke out about his abilities and his opponents after Sunday's NFC Championship Game.

The All-Pro cornerback met with fans in Mill Creek Tuesday evening. His fans say what happened during and after the NFC title game only makes them like him more.

Susan Bolles got in line before noon. She was not going to miss her chance to see her favorite Seahawk.

"I love Richard Sherman," she said.

She's not the only one. When Mill Creek Sports announced the star cornerback would be signing autographs, the 300 tickets were quickly sold out.

"Ever since I saw him run out of his shoe, I've liked him" Andrew Poliak says. "I went and bought his jersey that day."

Fans loved seeing Sherman make the tip that clinched the Seahawks' trip to the Super Bowl Sunday. And they didn't mind the rant that followed the game.

"I'm not basing him off one interview at all," said Kaylynn Stowell.

Some commentators have criticized Sherman's post game reaction. But fans here in Seattle say they support him.

"We see him signing things for kids, doing charitable work, showing up at schools unannounced," says Bolles. "We see the sides of Richard that no one sees."

"You have to look at the rest of the person. You read anything about his history, anything about where he came from, his blog afterward," says Poliak. "I can't imagine being in the situation he was in, but I'd probably be talking a lot of trash as well."

Poliak still thinks Sherman is a role model. In fact, he brought his kids to meet him tonight.

"Richard Sherman is my favorite," says his youngest daughter Tori.

"I think he's cool," adds her sister Madison.

Fans also say Sherman is right, when he talks about what he does on the field.

"He's the best cornerback in the NFL, there's no question," says Bolles. "What he said was true. He is the shutdown cornerback."

Mill Creek Sports says they've been talking to a few other Seahawks, and they're trying to schedule autograph sessions with them before the Super Bowl. Go to www.millcreeksports.com for more information.