Sherman writes op-ed: 'To those who would call me a thug or worse...'
SEATTLE -- Richard Sherman wrote an op-ed article for Sports Illustrated Monday morning in which he explained his postgame comments about 49ers wide receiver Michael Crabtree and the choking sign he made toward quarterback Colin Kaepernick and said, "I'm not a villainous person."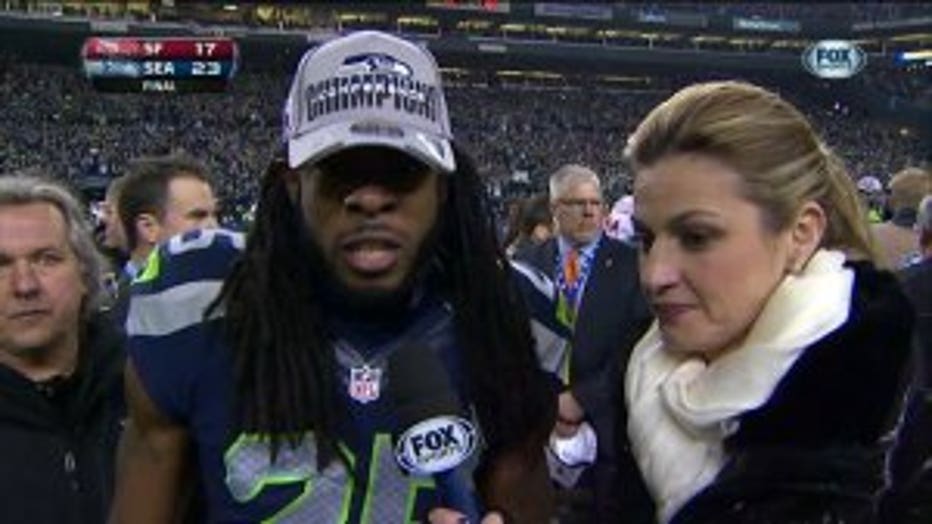 Referring to his postgame interview with FOX Sports' Erin Andrews in which he called Crabtree a 'sorry' wide receiver, Sherman wrote, "It was in the moment, and it was just a small part of the person I am. I don't want to be a villain, because I'm not a villainous person. When I say I'm the best cornerback in football, it's with a caveat: There isn't a great defensive backfield in the NFL that doesn't have a great front seven...

"To those who would call me a thug or worse because I show passion on a football field — don't judge a person's character by what they do between the lines. Judge a man by what he does off the field, what he does for his community, what he does for his family," Sherman wrote.

Sherman said after he had tipped the Kaepernick pass away from Crabtree that resulted in a Seahawks interception for the game-clincher, "I ran over to Crabtree to shake his hand but he ignored me. I patted him, stuck out my hand and said, 'Good game, good game.' That's when he shoved my face, and that's when I went off.

"I threw a choking sign at 49ers quarterback Colin Kaepernick. Why? Because he decided he was going to try the guy he was avoiding all game, because, I don't know, he's probably not paying attention for the game-winning play. C'mon, you're better than that."

Sherman said "people find it easy to take shots on Twitter, and to use racial slurs and bullying language far worse than what you'll see from me. It's sad and somewhat unbelievable to me that the world is still this way, but it is. I can handle it."

He said he read where Seahawks fans threw food at 49ers linebacker Navorro Bowman as he was being carted off the field with a knee injury and, "If it's true, it's beyond terrible. That's as low as it gets. I'm sure whoever did this is in a small minority  of fans, because I don't think that kind of actin is an accurate representation of the character of the 12th man."

To read Sherman's entire Sports Illustrated op-ed, click here.