Sheriff: School bus driver in deadly crash may have run red light
CHICAGO -- A man was killed when a school bus driver apparently ran a red light and collided with two SUVs near Wadsworth, but officials said the injuries among the dozens of elementary students on board were considered minor.

The accident happened around 8:05 a.m. at Route 173 and Kilbourne Road in Newport Township near Wadsworth as the bus was taking children to the Newport Elementary School, which holds grades kindergarten through fifth grade, officials said.

The bus "may have been late on the light" as it traveled west on Route 173 and struck a Jeep Wrangler headed south on Kilbourne, Lake County Sheriff Mark Curran said, citing witness accounts. "Close to a T-bone." A Jeep Cherokee at the intersection was also "hit very hard," he said.

The bus was knocked on its side and the windows were shattered, he said. "It's a bad scene," the sheriff said.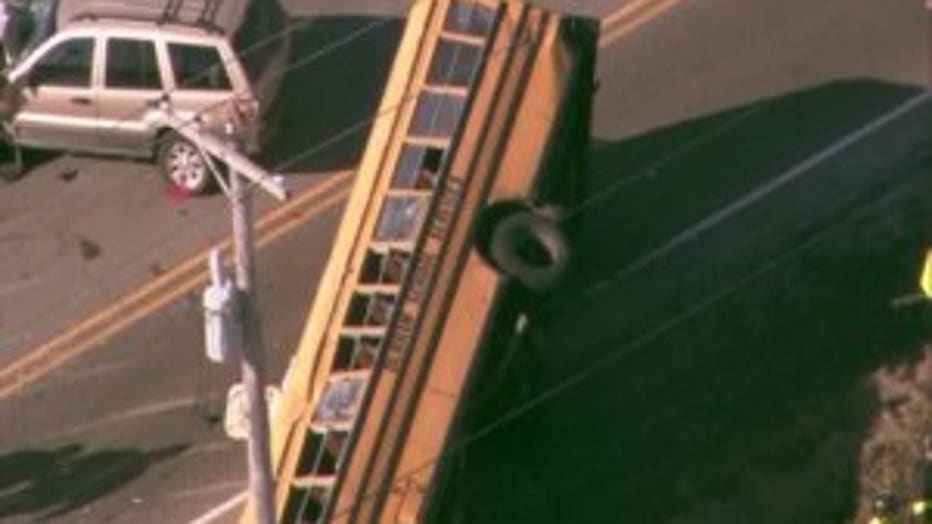 The driver of the Wrangler was killed. Officials described the injured children as "walking wounded."

The children were out of the bus when paramedics arrived. Twenty-three were determined to be code green, or good to fair condition, officials said. They were put on another bus with two paramedics on board and two ambulances as escorts on its way to Advocate Condell Hospital in Libertyville.

For the complete Chicago Tribune story, go here.