Sheriff: Mother arrested after 6-year-old beats newborn sister to death


LARGO, Fla. — Police arrested a 62-year-old Florida woman in the violent death of a newborn girl — allegedly at the hands of the woman's 6-year-old son.

Kathleen Marie Steele faces charges of aggravated manslaughter in the death of her 13-day-old daughter, also named Kathleen Steele. Steele gave birth to the little girl after being artificially inseminated with preserved sperm from her husband, who died of cancer in 2011.

Pinellas County Sheriff Bob Gualtieri spoke for more than 30 minutes Thursday, calling the case "one of the worst things" he'd ever seen.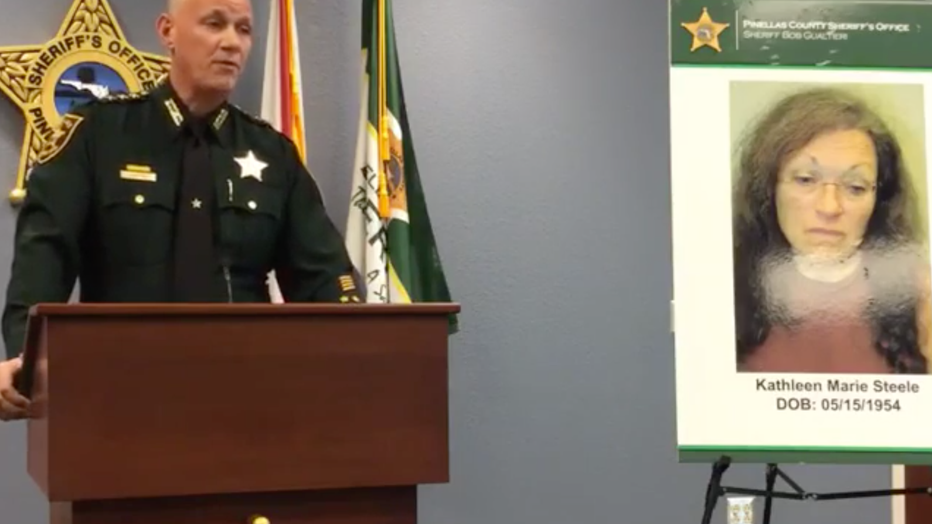 Sheriff Gualtieri called the infant's death one of the worst things he'd ever seen. (Facebook)


On Monday afternoon, Steele went to get her cracked cellphone fixed and left little Kathleen and her two boys, ages 3 and 6, inside the car — with the windows rolled up and doors locked, Gualteri said. Surveillance video showed Steele didn't leave the business for more than 30 minutes.

When Kathleen began screaming and crying inside the car, "the 6-year-old removed (her) from the car seat and began flipping her multiple times back and forth, dropping her on the floor, slamming her head against the ceiling, striking her in the face."

The boy put Kathleen back into the car seat, and when her mother returned to the car, the boy told Steele, "It's serious," Gualtieri said. Instead of going to the hospital, however, Steele went to a car rental business to extend the contract for the van she was renting.

Roughly two hours later, after returning to the hotel where the family was staying, Steele called a neighbor who works as a nurse for help, according to the sheriff's office. At that point, the baby was blue and cold to the touch.

"The skull was cracked in numerous places, described as probably mush … one of the worst things that I've ever seen," Gaultieri said.

Kathleen was rushed to St. Petersburg General Hospital where she was pronounced dead.

The 6-year-old later admitted to pummeling the little girl, according to Gualtieri, but he won't be charged because of his age. The boy is now in the custody of Florida's Department of Children and Families.

Gualtieri said Steele was "ill-equipped to have a baby" and said police had been called numerous times by people concerned for her children.

"By numerous witness accounts, Kathleen Steel was an inattentive parent and (the two boys) were largely unsupervised and had very serious behavior injuries."