Several towns flooded near Skagit and Skykomish rivers
ARLINGTON, Wash. -- Western Washington has been hit with the season's first widespread flooding just as the Thanksgiving holiday arrives.

The National Weather Service issued flood warnings for Thursday, urging caution as minor to moderate flooding along the Nooksack, Skagit, Skykomish, Snohomish, and Stillaguamish rivers is expected.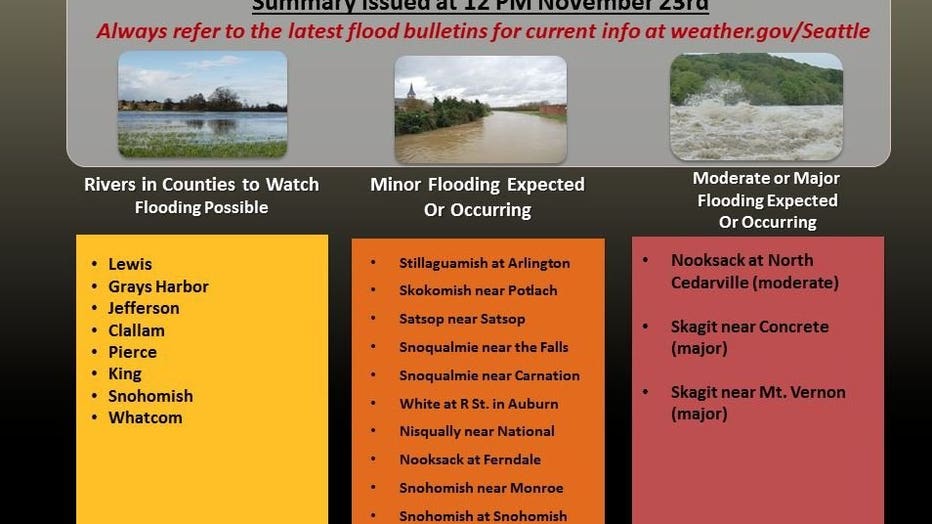 The Nooksack River at North Cedarville rose above the moderate flood stage Thursday morning but is forecast to fall. The Nooksack at Ferndale is forecast to have minor flooding. The upper forks of the Nooksack are all below flood stage.

The Skagit River near Concrete is experiencing major flooding. It crested Thursday morning about a foot above the major flood stage. It's forecasted to crest Friday in Mount Vernon at 33.6 ft. If that actually happens it will be the highest crest since 2006.

Downstream at Mount Vernon the forecast is for moderate flooding Thursday through Friday.



Both the North and South Forks of the Stillaguamish River crested Thursday morning, just below flood stage. However, the main stem of the river at Arlington is cresting just above flood stage.

The Skykomish River near Gold Bar crested just below moderate flood stage earlier Thursday; it is forecast to fall below flood stage by Thursday evening. The Snoqualmie River near Snoqualmie Falls is having minor flooding.

A Phase 2 flood alert threshold was issued for the Tolt River. Low-lying areas along the Tolt River upstream of Carnation could experience minor flooding.



In the southern part of the state, the White River near R Street in Auburn, the Nisqually River near National, and the Cowlitz River at Randle are all forecast to have minor flooding. In the Olympics, the Satsop and Skokomish Rivers will continue to have minor flooding. The Elwha fell below flood stage Thursday. An areal flood warning for smaller rivers that flow off the east side of the Olympic Mountains expired Thursday at noon.

A flood watch remains in effect through Thursday, and more flood warnings could still be issued.

Click here to check the latest flood watches, warnings

Drivers are encouraged to stay away from Highway 530, as flooding has been reported near Twin Rivers Park and Arlington Heights Road.

So far, the Stillaguamish River has spilled over from the bank with at least 6 inches (15 centimeters) of water over the road.

Q13 News found several homes and cars in about two feet of water early Wednesday. The water levels began to recede while our crews were there along the banks of the Stillaguamish.

High water is expected in low-lying places near Granite Falls, Arlington and Stanwood.

The small village of Silvana, an area of about 1.5 square miles where about 90 people live, was also flooded due to the nearby Stillaguamish.


Get the free Q13 News Weather app to use interactive radar, check the forecast hour-by-hour and get custom severe weather alerts.