Series of earthquakes offshore not a sign of 'The Big One,' seismologist says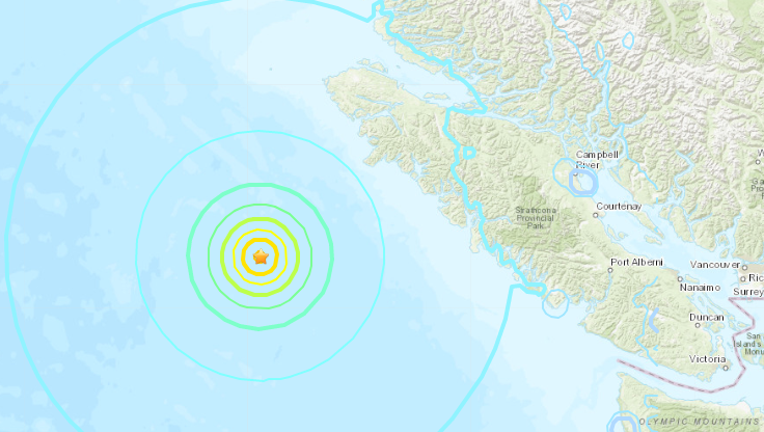 SEATTLE -- There was no damage reported after a series of earthquakes struck off the coast of British Columbia overnight.

But they were a "good reminder" the Pacific Northwest is a hotbed for earthquakes, seismologists said, and to always remain prepared.

The U.S. Geological Survey reported a 6.6 magnitude quake about 160 miles west of Tofino, followed by a 6.8 tremor and then a third measuring 6.5.

Survey geophysicist Zachary Reeves said all three quakes occurred in the same general area over about an hour and at a shallow depth of approximately six miles.

Emergency Info BC tweeted that the quakes were felt in parts of the province, but there were no reports of damage or injury. No tsunami warning was issued. No damage was reported in Washington state.




Several aftershocks were recorded in the hours following the quakes.

The Director of the Pacific Northwest Seismic Network, Harold Tobin, said the series of earthquakes off the coast doesn't mean the Pacific Northwest is any closer to the big one.

"People have wanted to know, are these a sign that the fault is getting ready to go or something like that," Tobin said. "I would say 'no.'"

Chances are extremely remote that the quakes would have triggered a larger quake closer to shore, Tobin said.

Still, quakes of similar size nearby could have caused quite a bit of damage.

"A 6.8 close by is definitely a concern," Tobin said. "They are about the same size as the 2001 Nisqually earthquake."

It was just before 11 a.m. Feb. 28, 2001, that the Puget Sound got a 6.8 magnitude shaking centered near Nisqually. It was the last sizeable earthquake in the area.

Seventeen years later, Washington state has come a long way in preparing for the next big quake. Still, there's a long way to go. Tobin said a quake closer to shore in the Cascadia subduction zone would be the most worrisome for Seattleites.

Last week, Q13 News Meteorologist Kaite Boer spent the morning debunking earthquake myths. Here's what not to do: