Serial killer Keyes: 'I would let them (victims) come to me in a remote area'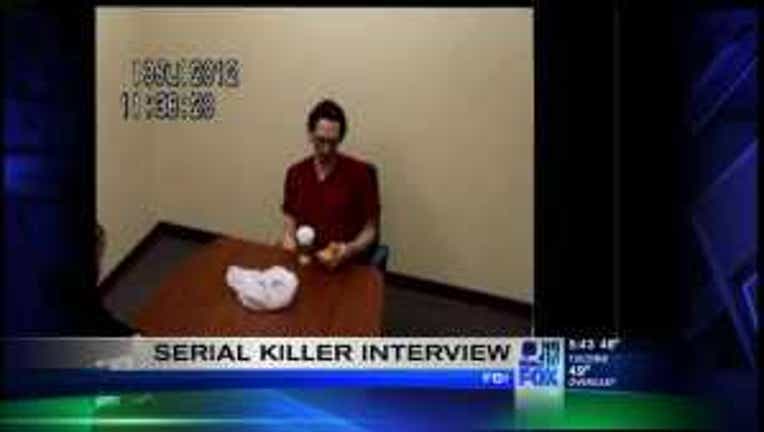 SEATTLE – The FBI on Tuesday released a video clip of an Alaska jail interview with serial killer Israel Keyes, who said before committing suicide that he had randomly chosen and killed as many as eight people across the country, including four in Washington state. In the video, he said he preferred to find his victims in remote places.

"Keyes admitted to murdering four people in Washington; he killed two people (independent of each other) sometime during 2005 and 2006, and murdered a couple in Washington between 2001 and 2005," said the FBI office in Anchorage, Alaska.



Now, the search is on to figure out who he might have killed in Washington.


"There is no one who knows me, or who has ever known me who knows anything about me, really," Keyes, 34, a construction contractor, said told police in one of numerous interviews before he committed suicide in jail in Anchorage on Sunday.


"They know, they're going to tell you something that doesn't line up with anything I tell you, because I am two different people basically, and the only person who knows about what I am telling you, the kind of things I am telling you, is me," Keyes said.
Keyes was being held in Anchorage on charges that he kidnapped, sexually assaulted and killed an 18-year-old Anchorage barista in February.

During police interviews, Keyes confessed to the barista's killing and said he had also killed a couple in 2011 in Essex, Vt., disposed of another body in New York state and killed four people in Washington state.  It is unknown how many details police got on the other cases. The bodies of the couple in Vermont, who disappeared in 2011, have never been found.

In a 40-second video clip recorded July 10, Keyes explains that he preferred to let his victims come to him in an isolated area far away from where he lived.



"If I was smart, I would do it, I would let them come to me in a remote area," Keyes said. "I would go to a remote area that's not anywhere near where you live but that other people go to, as well. You might not get exactly what you're (looking for in a victim) … there's not much to choose from, in a matter of speaking, but there's also no witnesses, really. There's nobody else around."

One here that falls into an unsolved remote slaying was the killing of a Seattle librarian and her daughter, Mary Cooper and Susanna Stodden, who were found shot to death on a hiking trail in Mount Baker-Snoqualmie National Forest in 2006.

Now the question is, could Keyes have killed Cooper, 56, and Stodden, 27, in 2006?

"I mean I don't know if this is related," said David Stodden, the husband and father of the two slain women. " I mean I sense, I saw the dates that the FBI put out and I can't really tell if he was even in the area during this time."

David Stodden has spent the years since his wife and daughter's deaths trying to find their killer.  He said he's still not sure what to make of this latest information.

"I mean there was a couple of things, obviously, he went to campgrounds and he liked to go to trail heads and look for people …  potential victims," Stodden said.

Stodden saidit gives him hope that the murders of his wife and daughter will be solved, but if Keyes was responsible, there is disappointment, too.

"I think eventually it will be solved.  I kind of hope there's a trial ... then more of the whys would be answered I guess if there is a trial and actually get to listen to someone sort of say why they would do something so awful like this," Stodden said.

The Snohomish County Sheriff's Office said they were aware of Keyes but don't believe he is related to any murders in the county, including those of Cooper and Susanna Stodden.