Senate's state budget: $1B more for schools; cuts to child care, social services


OLYMPIA -- The conservative-led Senate proposed a state budget Wednesday that would increase K-12 education by $1 billion without raising taxes, but would move some government employees off the state's health plan and cut child care and social services.

"We want to have a budget that promotes this fragile economy and keeps our recovery going," said state Sen. Andy Hill, R-Redmond, the Senate's chief budget writer.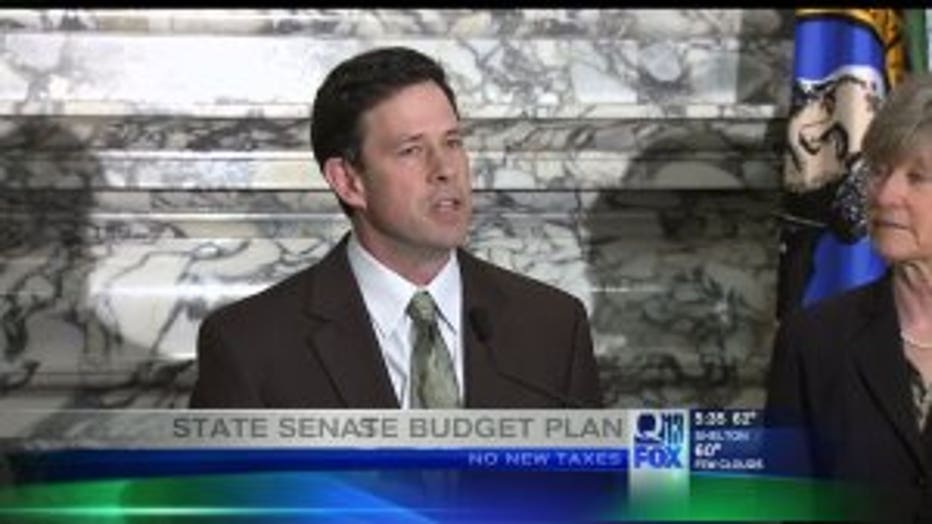 State Sen. Andy Hill, R-Redmond, is the Senate's chief budget writer.


Gov. Jay Inslee presented his proposed budget for the state last week and it is a very different blueprint – meaning a showdown is likely in the coming weeks to bring the two sides together before the session ends April 28.

The plan from Senate leaders calls for $1 billion more for public schools to fulfill the state Supreme Court mandate. That's lower than the governor's proposed $1.2 billion.

But the big difference is that Inslee relies on new revenue, whereas the Senate budget holds the line on any new taxes.

"It's going to keep money in the pockets of our working families and our small business owners," Hill said of the Senate plan.

Unlike the governor's plan, the Senate's proposed budget does not rely on closing tax loopholes for money and would let expire taxes on beer and professional services that are set to sunset in July.

To generate $1 billion in new money for public schools and another $1.2 billion to fill the state's budget hole, the Senate plan relies on a number of savings.  Those include moving some government employees off the state's health plan as they move to a federal exchange plan under the new national health care law, and a $180 million cut to child care and social services.

"Every time the Legislature has shown up here in January, they have been facing a multibillion(-dollar) deficit," said Hill. "My goal is not to have that happen next January."

Two Democrats appeared at Wednesday's event, saying they helped craft the Senate plan. But others, including Inslee, deny that it's a bipartisan blueprint.

In a statement released afterward, Inslee said the Senate's plan is "deeply flawed" and would set the state "backward."

In a news release, UW President Michael Young said, "Today's Senate Majority Coalition Caucus budget proposal comes up woefully short for the UW and higher education. Of the $100 million in 'new' funding for higher education, the majority is derived from a 20 percent tax on our international students that we believe will price students out of their education and result in a loss of high-quality talent for our state.

"Even with this tax on international students, the caucus budget and its 3 percent tuition reduction provides less funding per student in the next biennium and several hundred dollars less than what was provided over two decades ago.

"Washington already ranks second to last in the nation -- 49th -- in funding per student in higher education. A budget like this will not allow us to maintain the excellence of the UW and meet the needs of our students," Young said.

The activist group Statewide Poverty Action Network also said the budget "cuts vital services to low-income children, families, elderly adults, and people with disabilities. Anti-poverty advocates are disappointed by the proposal, saying the cuts would be devastating to people in Washington."

The next stop for the budget train is the Democratic-controlled House of Representatives, which is set to release its budget next week.

State Rep. Reuven Carlyle, D-Seattle, chairman of the House Revenue Committee, rejected the Senate plan as unworkable.

"It's completely unsustainable," Carlyle said. "We would have a disaster on our hands" in two years. "Real services impacting real people living real lives are impacted by this gimmicky budget."

After the House presents its proposed state budget, it will be time for all three players – the governor, Senate and House – to find some common ground before the legislative session ends April 28.