Senate Republicans block federal minimum wage increase bill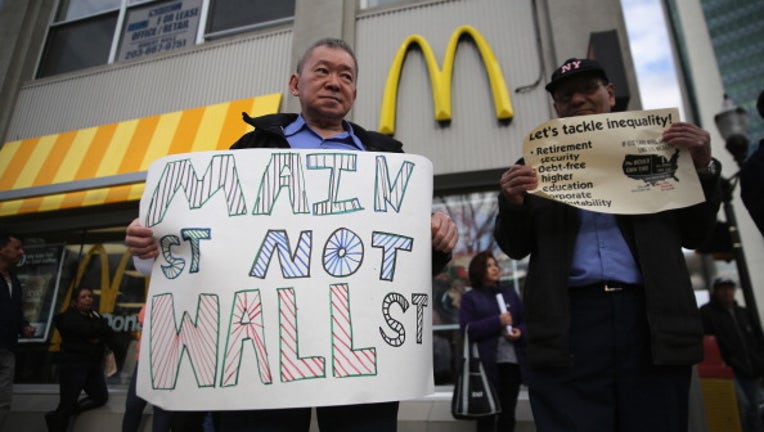 WASHINGTON (CNN) -- An election-year showdown over a Democratic priority -- raising the federal minimum wage to $10.10 an hour -- saw Senate Republicans block the measure on Wednesday, unleashing a torrent of criticism from President Barack Obama and his party.

The measure failed to get the 60 votes needed to open debate in the 100-seat Senate, with only one Republican joining majority Democrats in an unsuccessful effort to overcome the GOP filibuster.

While another vote on the proposal is possible, Obama and Democrats quickly sought to exploit the measure's initial stumble into political capital for November's congressional elections.

"If your member of Congress doesn't support raising the minimum wage, you have to let them know they are out of step and if they keep putting politics ahead of working Americans, you will put them out of office," the president said.

Minimum wage state by state

Washington state has the highest minimum wage in the nation -- at $9.32 an hour -- and some in Seattle are pushing for a $15 minimum wage in the city.

Republicans argue raising the minimum wage to $10.10 per hour would damage the nation's fragile economic recovery. Several GOP lawmakers took note of fresh data released Wednesday indicating the economy grew at a sluggish 0.1% in the first quarter of 2014.

"They seem to think they can coast on talking points and stale ideas — and that the American people haven't been paying attention to their recent dismal record at actually helping the people they claim to care about," said Senate Republican leader Mitch McConnell of Kentucky.

However, Senate Democrats argued the GOP position hurt American workers struggling to make ends meet.

"Their vote today defines their priorities," Sen. Patty Murray of Washington said of Republicans. "It is the equivalent of looking American women in the eye and telling them they don't deserve a living wage. It is telling our middle-class families they don't deserve a fair shot."

Minimum wage: Congress stalls, states act

Even if the Senate moved ahead with the legislation, there was little chance the House, which is led by Republicans, would take it up.

Obama and Democrats noted that polls show a strong majority of Americans support raising the minimum wage, which currently stands at $7.25.

At the same time, polls indicate Democrats have little chance of winning back control of the House in November and could lose their majority in the Senate.

After Wednesday's vote, Democratic senators sought to use the defeat as a rallying cry for November.

"Low-income people tend not to vote, but on this, this would be one that they come out on because it's a pocketbook issue for them," said liberal Sen. Tom Harkin of Iowa.

Democrat Chuck Schumer of New York noted that traditionally conservative states like Arkansas and Alaska have put a minimum-wage increase on their ballots "to help bring out the vote."

"It's too high, too fast," said Sen. Rob Portman of Ohio, who favors a smaller increase like the one adopted in his state. Sen. Susan Collins, a Maine Republican, also said she supports a reasonable increase and complained that Democrats sought to force the higher figure through without compromise or debate.

"I think it speaks to what's wrong with Washington today -- that we're placed in a situation where it was 'take it or leave it' rather than trying to come together and offer amendments and offer a level that might be acceptable," Collins said after the vote.

Harkin, however, said the $10.10 figure sought by Democrats was needed to lift people out of poverty.

"We will not compromise on $10.10. That just gets us above the poverty level," he said. "Anyone who wants to go below that is saying that a hard-working American who works full-time all year long still will live in poverty. It's time to get beyond that."

In February, Obama signed an executive order raising the minimum wage to $10.10 per hour for federal contractors beginning in 2015. The measure voted on Wednesday sought to make that figure the federal minimum wage.

The lone Republican to vote with Democrats was Sen. Bob Corker of Tennessee, who said he wants changes in the measure even though he supported bringing it up for debate.

Meanwhile, Democratic Sen. Mark Pryor, who is facing a challenging re-election in conservative Arkansas, supports a smaller increase that is under consideration in his state. Pryor missed Wednesday's vote because he was back in Arkansas dealing with this week's storm damage.