Senate committee approves investigation of rape allegation against Auburn's Joe Fain


OLYMPIA, Wash. (AP) — A Senate committee on Thursday approved a bipartisan recommendation for an outside investigation into a rape allegation made against state Sen. Joe Fain.

The chamber's Facilities and Operations Committee unanimously approved the decision, which imposed a report deadline of Dec. 31, though officials said they would like it by Dec. 14 if possible.

Senate leaders said they may re-evaluate their decision if the Auburn Republican loses his election in the coming days. Fain led his Democratic opponent, Mona Das, by a slim margin as of the latest election update Wednesday night and more vote tallies will be released late Thursday. A recount in the race will be triggered if the final tally is less than one half of one percent and also less than 2,000 votes.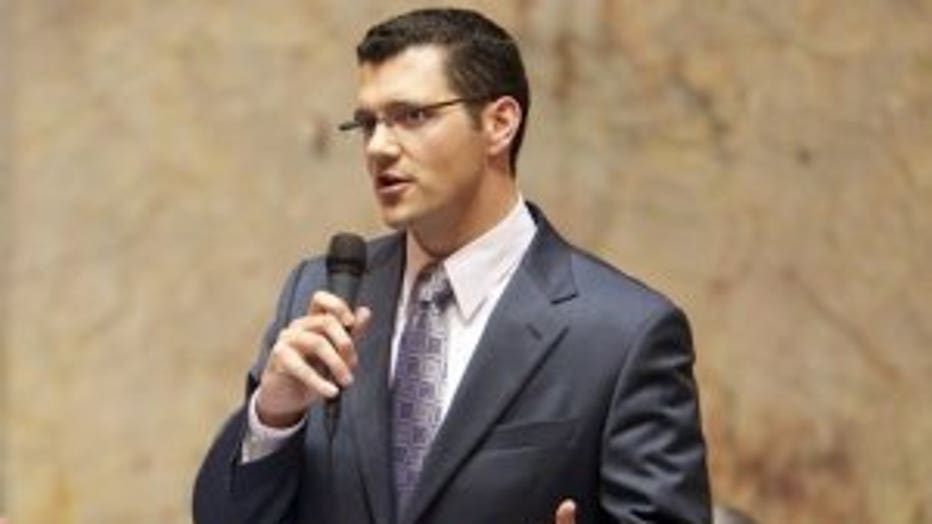 State Sen. Joe Fain (Courtesy photo)


In September, Seattle resident Candace Faber tweeted that Fain raped her in 2007, on the night she graduated from Georgetown University in Washington, D.C. Fain, who has denied the allegation, was not in office at the time at the time of the alleged assault. Faber said she was inspired to publicly speak out as she watched the televised allegations against Supreme Court nominee Brett Kavanaugh.

In an email, Faber said she was glad to hear that the Senate was taking steps to investigate, but she said that regardless of whether or not Fain is re-elected, "this experience has made it clear that we do not have an adequate process for dealing with sexual abusers of any form outside of a criminal or workplace situation."

In a joint statement issued after the vote, Democratic Majority Leader Sharon Nelson and Senate Republican Leader Mark Schoesler said the chamber struggled with how to respond, since the allegation pre-dated Fain's time in the Legislature.

"We feel that the hiring of an independent third party provides the most potential for a fair, non-partisan and comprehensive outcome that is satisfactory to everyone involved," they wrote.

Fain, 37, was first elected to the Washington state Senate in 2010, three years after the alleged incident. He is currently the state Senate minority floor leader.

"While this episode has caused incredible stress and pain for my family, I have repeatedly sought a fair and respectful process that will allow me to clear my name and move on," Fain said in a text message Thursday.

Two other lawmakers seeking re-election this year have also had to address sexual misconduct charges. Democratic Rep. David Sawyer lost his August primary less than two months after an outside investigation found that he violated the chamber's policies on harassment, decorum and ethics. Among the findings in the investigation were that Sawyer sent a House employee "inappropriate and offensive" text messages over a period of three months.

Republican leaders in the House called for Rep. Matt Manweller to resign after The Northwest News Network reported in September that a former Idaho high school student of Manweller's said she had a sexual relationship with him in the 1990s, when she was 17. Manweller, who was fired from his professor position at Central Washington University in August following an outside investigation into alleged inappropriate conduct, has denied the allegations but has said he will finish his term but not serve another if re-elected. Manweller comfortably won his district with 64 percent of the vote, and confirmed in a text message Thursday that he will serve out the reminder of his term, which ends Jan. 13. The district's county commissioners will vote for someone from a slate of Republican names put forward by party officials to be appointed to the seat.

Both chambers have grappled with how to address sexual harassment issues over the past year in light of the #MeToo movement and allegations past and present were brought to light.

This past summer, the committee approved a recommendation to hire a nonpartisan human resources officer who can independently investigate complaints of harassment or discrimination in the chamber, though any disciplinary actions would still fall to Senate administrators. The decision was one of the recommendations of a bipartisan Senate task force. Officials say they expect someone to be hired for that position by the end of the year.

The House has created its own sexual harassment work group that includes staff, lobbyists and lawmakers, though that group's recommendations aren't expected until the end of the year.