Semi overturns on SR 99, creates Seattle traffic nightmare; roadway closed more than 8 hours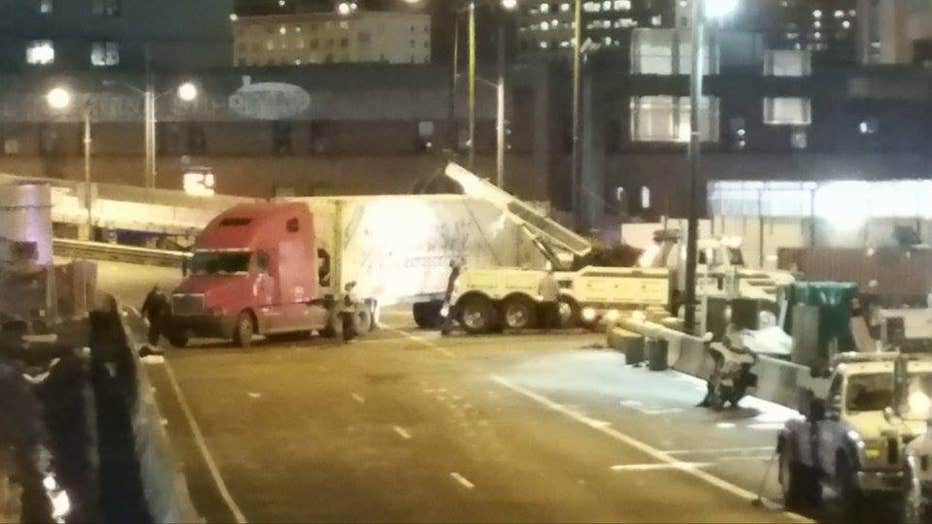 The overturned truck was righted at about 7:05 p.m. Tuesday. (Photo credit: David Rosen/West Seattle Herald)


SEATTLE (AP) — A large commercial truck filled with a load of fish overturned Tuesday afternoon, blocking a section of the southbound lanes of State Route 99 in south Seattle and starting a domino effect of gridlock that stalled rush-hour traffic for hours.

Seattle police say the truck driver was taken to Harborview Medical Center with non-life-threatening injuries. Police say they'll be investigating whether any violations are involved.

As the hours passed, traffic ground ever slower on surface streets and Interstate 5 through Seattle.




At one point, city transportation officials said a cross-town trip in a different area of the city — from Elliott Bay to I-5 — took an hour. That's a distance of a little more than a mile.

And at 9:05 p.m. Tuesday, the Seattle Department of Transportation indicated southbound SR 99 wouldn't be opening anytime soon:




At 10:54 p.m., SDOT tweeted this:




At 11:24 p.m., SDOT tweeted that the truck and trailer had been cleared away and indicated the southbound lanes would reopen sometime after midnight: