'Preparing for hope': Seattle's Lumen Field opens as largest civilian-led mass vaccination site in US
SEATTLE - On Saturday, the country's largest civilian-led mass COVID-19 vaccination site opened in Seattle.
Seattle Mayor Jenny Durkan and King County Executive Dow Constantine during a media briefing on Saturday praised the efforts ahead of the start of vaccinations. 
"It almost brings me to tears. This is such an important moment for the city of Seattle," said Durkan inside the event center Saturday.
Nearly one year ago, the event center was operating a field hospital site for COVID-19 patients. Durkan noted this evolution as medical and volunteer staff set-up patients to be inoculated inside the 72,000 square foot event center. 
"Because we were at the beginning, we didn't know what was coming. We were afraid our hospital system would be overrun. We were fearful, and we were preparing for sickness and death. And today we are preparing for hope," said Durkan.
King County Executive Dow Constantine echoed Durkan's optimism and applauded the city's achievements to establish the vaccination site.
"The time we are preparing for is the time we exit scarcity and enter abundance, and we need the capacity to get those vaccines out immediately to the people who are eligible and ultimately, to everyone who needs them," said Constantine on Saturday.
Gov. Jay Inslee and Seattle-area leaders on Wednesday touted the opening at the Lumen Field event center between the city's two sports stadiums – a site authorities hope can soon be vaccinating more than 20,000 people a day, seven days a week.
As more vaccine doses become available officials say the Lumen site aims to vaccinate 2,200 on Saturday and will operate seven days a week will capabilities to innoculate 22,000 people each day. Those eligible to get a vaccination at the site live and work in King County, and fall under the state health department's Phase 1A, Phase 1B, Tier 1, and Phase 1B, Tier 2 tiers.
Click here for more information from the City of Seattle
Seattle Mayor Jenny Durkan said when it is operating at full capacity the operation will be the largest civilian-run vaccination site in the country.
"With Lumen Field, we are taking an enormous step forward," she said at a news conference Wednesday. 
The site at the Lumen Field Event Center is a partnership between the city, Swedish Health Services and the company that operates the facility, First & Goal Inc.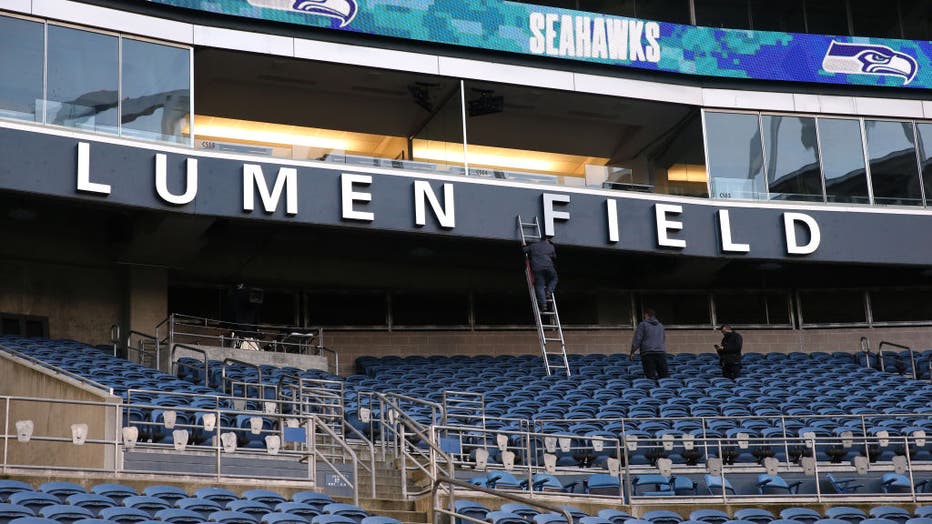 SEATTLE, WASHINGTON - NOVEMBER 19: A general view of signage being attended to at Lumen Field on November 19, 2020 in Seattle, Washington. (Photo by Abbie Parr/Getty Images)
Inslee said the site is designed to help people who have had trouble getting vaccinated - either because they lack access to the Internet or other reasons - get their shots.
For now vaccination eligibility is limited to people over 65, teachers and licensed child care providers.
RELATED: How to confirm vaccine eligibility and find vaccination locations in Washington
Calvin Goings, director of the city's finance and administrative services department, which led the development of the Lumen Field site, told The Seattle Times the site has a $25 million budget, which the city expects will be largely reimbursed from federal aid, and will likley be open for six months.
More than 2 million doses of the COVID-19 vaccine have been administered in Washington since mid-December, officials said this week.
"I am so grateful for the tireless efforts of our partners on the ground, including local health jurisdictions, community health centers, hospitals, clinics, pharmacies and so many others. The successes we are seeing are a testament to their hard work over the past few months," state Secretary of Health Umair A. Shah said in a statement.
RELATED: Where to get vaccinated in Washington state
As of Monday, officials say the 1,400 provider facilities giving vaccines in the state have given 2,065,762 shots. That's more than 80% of doses delivered to the state.
The state on Friday said it had reached its goal of giving more than 45,000 doses of vaccine per day.
"As our race to vaccinate Washingtonians as quickly and equitably as possible continues, these accomplishments are further proof that hope is on the horizon," Shah said.
The Associated Press contributed to this report.
Stay connected with Q13 News on all platforms:
DOWNLOAD: Q13 News and Weather Apps
WATCH: Q13 News Live 
SUBSCRIBE: Q13 FOX on YouTube
FOLLOW: Facebook | Twitter | Instagram