Seattle zoo's antivenin helps save life of snake-bitten Canadian


SEATTLE -- A Canadian man who was bitten by a venomous viper while vacationing in Costa Rica was saved by antivenin supplied by Seattle's Woodland Park Zoo, the zoo said Friday.

Michael Lovatt, 61, of Roberts Creek, B.C., didn't know at the time he was bitten in Costa Rica that it was a viper, the zoo said in a news release. Lovatt initially thought he had been bitten by ants, but soon his leg became swollen past the ankle and he was in severe pain.  He received painkillers in Costa Rica and flew home.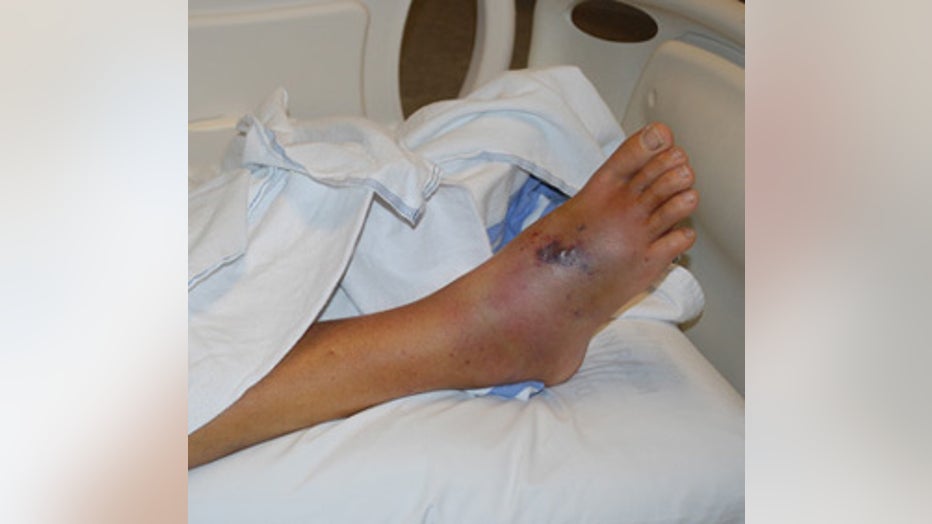 Michael Lovatt's foot swelled and he was critical condition from viper bite. (Photo courtesy of Vancouver Coastal Health)


On Monday, when he returned to Vancouver, he immediately sought medical attention at Vancouver General Hospital, where he was diagnosed with kidney failure and suffering from bleeding and swelling from his foot to the mid-thigh, the zoo said.

The medical team gave him blood transfusions and put him on urgent dialysis.

"The B.C. Drug & Poison Information Centre at the  B.C. Centre for Disease Control was brought in. Working around the clock, the medical team figured out the type of snake based on the patient's symptoms, a Fer-de-lance Bothrops asper, native to Central and South America. The snake is known to cause deaths in humans," the zoo said.

After searching North America for the antivenin, the team contacted Woodland Park Zoo and medical experts at Seattle's Harborview Medical Center Tuesday afternoon. Mark Myers, a curator at the zoo, rounded up 20 vials of antivenin, which the zoo keeps on hand for emergencies, and arranged for a zookeeper to deliver the vials to Harborview. British Columbia Ambulance Service was in the air within minutes and picked up the antivenin by air ambulance.

The patient's blood clotting improved quickly within minutes of receiving the antivenin and his condition had stabilized in six hours, the zoo said.

"Receiving the call for help was quite a harrowing experience," noted Myers. "We knew that time was critical and we had to move fast if we wanted to help save this patient's life. I was relieved to hear that he improved within minutes and that we played a life-saving role."