Seattle woman says she was attacked on bus and no one helped


SEATTLE -- A woman says she was attacked on a King County Metro bus and no one did anything to help her.

That comes after a series of robberies and other crimes on Metro buses.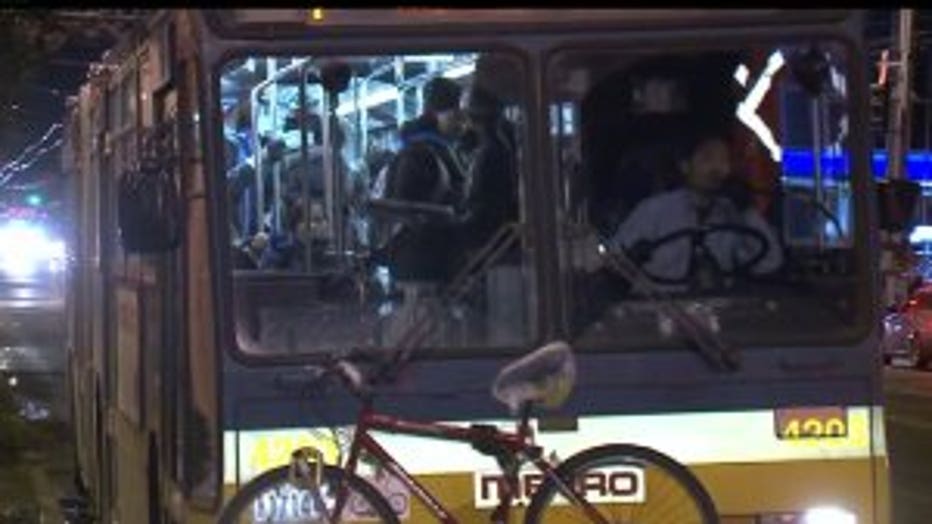 It's a chilling reminder why commuters should always have their guard up.

A 24-year-old Seattle woman says two thieves attacked her inside the bus, then dragged her off the bus and onto the sidewalk where she was kicked several times.  She told police other passengers and the bus driver who witnessed the whole thing did nothing.

When the us stopped at the corner of Rainier Avenue South and Martin Luther King Jr. Way South, two thieves tried to make off with the victim's iPhone and her backpack. She didn't let go of the straps of the backpack and was dragged off the bus, down the stairs and onto the street.

"Wow, that's dangerous," bus passenger Monica Luu said.

The teens took off running but not before kicking the woman several times, the victim said.

"That's just really sad. People should help her.  I don't think that's right," Luu said.

Orlando Nuckols, a retired Metro bus driver, said the driver who witnessed Thursday's attack did the right thing.

"When he is dragging her off the bus, there is not much a driver can do; you are not supposed to get out of his seat," Nuckols said.

Nuckols added that he's seen his share of assaults and robberies during his 20-plus years as a driver.

"It's a really hard job, extremely hard," Nuckols said.

Smartphones are a big target of thieves.

Police say a man and his friend recently got on a bus looking to rob someone. They followed a passenger off the bus, stealing everything of his, including the victim's clothes.  A suspect, Aweis Mohmed Abdi, was arrested and he appeared in court Monday. Back in April, another man stole an iPhone from a passenger on a bus. The suspect has since been arrested. Another similar case on a train where a man is caught on surveillance video snatching a phone before running off.

"This is a rampant problem over the United States, it's not just here and not just on the buses; it's anywhere," King County Sheriff's Sgt. Cindi West said.

"Honestly I keep my phone away just because I don't want to take that risk because you never know," bus passenger Venise Bjorkman said.

"If someone took an iPhone I would let them keep it because it's not worth it for you to get assaulted or something," bus passenger Sian Wu said.

Crimes on buses are not just limited to robberies. In August, a Metro bus driver was shot twice after reminding a passenger to pay his fare. In another case a guy was caught on cell phone video exposing himself to a woman sitting across from him.

Last Thursday's case is just one more to add to the list.

"It's really dangerous, there are really loud people and people can snatch your things anytime," Luu said.

King County Metro says their bus drivers are trained not to interfere in dangerous situations; instead they are told radio in for help. Right now there are seven undercover sheriff's deputies who will routinely ride the buses but with about 1,200 buses running on any given day, they cannot be everywhere. Seattle police in the coming days will be handing pamphlets from Crime Stoppers reminding passengers not to have their smartphones out.