Seattle sports fans are finally on top of the world...now what?
SEATTLE -- As Seattle basks in the afterglow of the Seahawks' first World Championship and victory parade, a lot of fans are wondering, "So...now what?" My wife has told me that she is concerned that I am going to slip into a funk after so much elation. But I don't think I am. I learned something very important about myself and my city through this process.
The images of that victory parade will stick with me for the rest of my life. It was catharsis. It was a group therapy session of the most beautiful kind. It was a city embracing a team that defied the odds, silenced every doubter, and shattered the mindset of our city's fans, who have dealt with futility, disappointment and sports irrelevance for much of the past three decades. For a city still wounded by the cruel, crushing loss of the Sonics, Wednesday's victory parade gave us a brief, beautiful moment to revel in our glory. Watching a million fans crowd the streets, and shower the champs with skittles, praise and raw, pent-up emotion brought tears to my eyes. This city hasn't known this kind of euphoria since the Sonics held a similar victory celebration in the streets of Seattle back in 1979. Seattle needed this badly.




You know what this season was about? It was about love. It was about belief. It was about a team that made us believe. A team so young, confident, and talented, that they could not possibly be stopped. The players and coaches are quite aware of what this city has been through. They didn't need to go back and read the history of what the fans in this city have gone through. They could feel it. They could hear it. They know all about it, through the passion and desire that we showed them. And opposing teams are intimidated by it. The Hawks wanted to win the Super Bowl for us, just as much as they wanted it. In victory speeches in front of a packed house at CenturyLink Field, Pete Carroll, Russell Wilson and Paul Allen all dedicated the franchise's first title to the 12s.

I had a unique vantage point to watch this season unfold. I was essentially a reporter imbedded with the fans, the 12th Man, a fanbase so rabid and boisterous, it's become just as noted and feared as the Seahawks' hard-hitting defense, The "Legion of Boom", which is now being regarded, rightfully, as one of the greatest defenses in NFL history. I am a hardcore Seahawks fan myself, having been a season ticket holder, along with my dad, since the very first preseason game in franchise history in 1976. I get it. The 12s are a powerful force.

I talked a lot about the positive signs for the Seahawks heading into the Super Bowl. Keep in mind, I am not a believer in numerology, ESP, or any of that stuff. I have never even been successful in picking winners, or scores of games. I typically do not gamble. But I was very close to the energy and power that fueled these fans all season. Late in the season, I started noticing positive signs related to the Seahawks. A few days before the season finale against the St. Louis Rams, a game the Hawks needed to win to clinch the top seed in the NFC, and homefield advantage through the playoffs, I had a dream in which I looked up at the scoreboard and saw the final score:

Seahawks 27
St. Louis 6.

Now, I have never dreamed a score in my life that I am aware of. I noted that score on Facebook and Twitter. Late in the 4th quarter of the Rams game, the score was 27-3. The Rams were driving, and I thought would be strange if they kicked a field goal and made the final score exactly what I had dreamed. But then, with a few seconds left, the Rams scored a touchdown, and went for a 2-point conversion, which appeared to be successful, but the ball was knocked loose at the last moment by the Legion of Boom, and as I looked up at the scoreboard, just as I did in my dream, the final score was:

Seahawks 27
St. Louis 9.

After the game, I posted on Twitter that perhaps the 6 was upside down in my dream.

I had a great feeling about the Hawks' chances in the playoffs. My gut told me that this was our year. But doubt creeped in a few times. I couldn't help it. None of us could. We've been disappointed so many times as Seattle fans, that we have always had to hedge our bets. In the NFC Championship game, even when things looked bleak, I kept the faith. I kept telling myself, and others,  "Believe. Believe. Believe." And I did. We all did. Even though the 49ers are a phenomenal football team, on that day, in that place, in this town, with all of that focused positive energy, the Seahawks were better. They could not be denied.

Then I started seeing the 12s. I've written all about it. I had an overwhelmingly positive feeling about the Super Bowl. I didn't talk openly about it much, but I knew in my gut that the Hawks were going to crush Denver. The weekend before the Super Bowl, the Vegas line changed a bit, and Denver went from a 2.5, to a solid 3 point favorite. I jumped in. I bet on the Seahawks to win straight up, no points, and got excellent odds. I also got 7-1 odds on a Seahawks' defensive or special teams touchdown. I won big. I knew it was coming. The signs were everywhere.

I have talked so much about how the number 12 factored so prominently in the game, both before, during and after the game. The energy surrounding this Hawks team seemed to make them unstoppable. It seems like Karmic destiny.

Speaking of forces of positive energy, how about QB Russell Wilson? He wears number 3 (1+2), which has also been my favorite number my entire life, for no particular reason other than I have just always worn it. Russell Wilson was drafted by the Seattle Seahawks in the 3rd round of the '12 draft, with the 12th pick of the round.

I was lucky enough to be on the field for the Seahawks' postgame celebration at MetLife Stadium. As I walked out of the tunnel, I looked up, and the first thing I saw was Russell Wilson holding the Lombardi trophy over his his head  It took my breath away. It was surreal. I couldn't believe it was really happening. I scooped up some confetti, took a few pictures, gave GM John Schneider a bear hug, and rushed off to go back to work.

I have noted that the Seahawks scored 43 points in the Super Bowl (4 x 3= 12), but the final score was 43-8. That's 51. What happens when you write 51 in block letters and look in a mirror?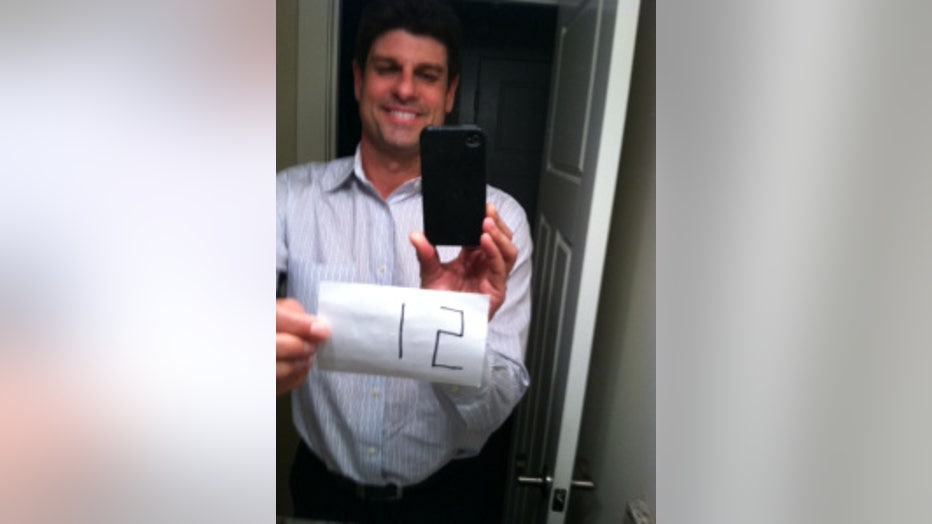 Maybe it was like my dream before the Rams game. The score was flipped around. Only this was a lifetime dream come true. It happened.

I was giddy about the Seahawks' victory parade on Wednesday. I knew I was going to be anchoring the coverage on Q13 FOX, and I knew that I needed to tell the story of what this means to the city of Seattle. As someone who has studied, reported on, cheered for, cried over, lived and died Seattle sports my entire life, I wanted to be able to give viewers some perspective. I didn't realize that our broadcast was going to be carried live at CenturyLink Field, Safeco Field, and live on the web to millions all over the world. During my 12 hours of live-on-air coverage of the events that day, I didn't use a single note (aside from the "12" math). I spoke from my heart and I spoke from my life experience as a Seattle sports fan, and I got emotional at times. I didn't realize it, but I was processing my emotions by talking through it live on the air. It was a big deal for my city, and it was a big deal for me. It was my professional Super Bowl, and I feel so incredibly honored and blessed to have had that opportunity. Maybe the Seahawks inspired my performance that day. I don't know. But I do know one thing: I was meant to be there at that moment.

My co-anchor Kaci (and many others) think I'm goofy with all of the "12" stuff. She joked that my name, William Wixey, is 12 letters. And this just dawned on me: my birthday is 8/22 (8 + 2+ 2= 12).

Two years ago, I was the only Seattle reporter that was sent to New York to cover the unveiling of the new Seahawks' new uniforms. On that day, I was told the story behind the color scheme. It's all about Seattle. The classic Seahawks blue, combined with Emerald green, in honor of the "Emerald City", and gray, to match our winter skies. Kam Chancellor was the "model", showing off the new duds. He pointed out to me that there are 12s all over the uniform. Native American-inspired hashes surround the collar: 12 on each side. The same hashes accent the stripes on the pantlegs.


These uniforms were unveiled in New York (site of Super Bowl 48) in '12, and there are four 12s on every Seahawk uniform (12 x 4= 48).

It was in the very fabric of this team all along. It really was meant to be. All of it.

And that's what I've learned. My gut was right. For the first time in my life, it was spot-on, dead solid perfect, on the money. I had some doubts, but I was not wrong. I chose to have faith. I chose to believe. From now on, I am going to trust my gut. I am going to pay closer attention to signs and wonders. They are real. There's an energy bigger than us, and it's way more productive, and way more fun, to be a part of that greater, more positive energy.

You just have to believe.