Seattle sanctioned homeless encampment asks to stay; some neighbors concerned


SEATTLE – We all know our area is dealing with a housing affordability crisis and a homeless problem. One solution over recent years has been city-sanctioned homeless encampments and tiny house villages across Seattle.

One of those encampments off Myers Way is called "Camp Second Chance" and now it could either be shut down or allowed to stay put for another year.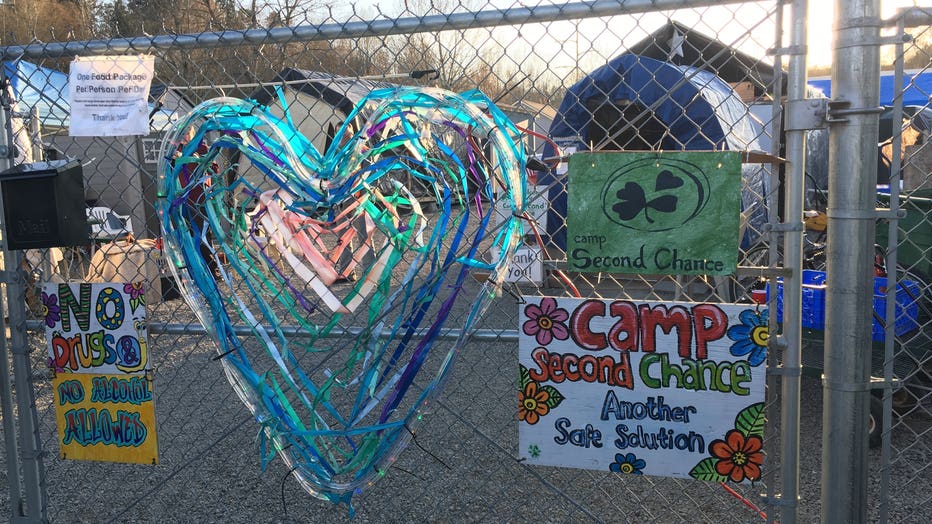 "We tell them we love you and there's nothing you can do about it," said Camp Second Chance Camp Manager and Co-Founder Eric Davis.

When you first enter Camp Second Chance off Myers Way in Seattle, you can see what this city-sanctioned homeless encampment is all about.

"It was safe, quiet and organized," said Davis.

There's a kitchen for hot meals, Porta Potties, a washing station, and dozens of tents for the 51 campers who live here under strict rules.

"Code of conduct, clean and sober, cleanliness, sanitation and a sense of camaraderie," said Davis.

One-by-one, campers and their supporters took the mic to encourage city leaders to give the encampment a new permit to stay another year at a community meeting.

"Thus far, we've seen permanent encampments have been a positive strategy in serving people that are chronically homeless and have spent extended periods unsheltered," said City of Seattle Human Services Department Lily Rehrman.

Camp Second Chance is just next door to a senior living center and down the road, you'll find single-family homes.  Those neighbors have been reaching out to the city by phone and email about the homeless people in the area.

"We've heard a lot of positive comments and we've heard some concerns really the community around the camp," said Rehrman.

Just across the street from Camp Second Chance is an unsanctioned encampment and you can see the trash building up.  That's part of the problem neighbors are complaining about.

"For us, there are separate situations separate conditions, but we can understand why it can get confusing sometimes," said Rehrman.

While the city will decide what to do with Camp Second Chance, the growing unsanctioned encampment is not a top priority for a sweep or forcing people to move.

"It's not fair for them to move us out of here and not have a place for us to go," said homeless woman Crystal Hunter.

Hunter lives off Myers Way in this growing unsanctioned encampment.  She knows the city must provide a shelter option if it were to sweep any encampment, including hers.  So she's safe to stay at the unsanctioned encampment for now.  She says the city should do more to keep this area clean.

"Definitely dumpsters at every barrier would be nice," said Hunter.

Over at Camp Second Chance, the city-sanctioned encampment is ruining their reputation.  The campers believe they're being criticized for what others are doing like dumping trash or potential criminal activity like property crimes in the neighborhood.

"Our campers have been going up and down cleaning up Roxbury and 1st Avenue and we're trying to be a good neighbor," said Davis.

Seattle city officials say they'll spend the next couple of weeks hearing from the public and campers to decide if "Camp Second Chance" gets to stay.  Other city-sanctioned encampments have gotten renewals including one in Ballard.