Seattle residents call for safer streets for pedestrians
SEATTLE -- Dozens turned out in Seattle's Ravenna Eckstein Community Center Tuesday night to talk about a need for more crosswalks along 75th street, where a deadly pedestrian/vehicle accident devastated a family crossing the street.

Dennis Schulte, 66, and his wife, Judith, 68, were hit and killed by a pickup truck in the Wedgwood neighborhood March 25. Their daughter-in-law, Karina Schulte and her newborn baby were also hit; they're still in critical condition in the hospital.

At the public meeting, it was disclosed that four students at nearby Eckstein Middle School have been hit by cars this year.

Parents told police and city transportation officials there needs to be better enforcement and better signals to slow drivers down.

The Seattle Department of Transportation said improvements are being made in the area.

Earlier, Lisa Quinn, who is with Feet First, an activist group for Seattle pedestrians, said she believes Seattle is failing to make it safe for families to walk in their neighborhoods.

"Do we really need to have someone die for the wake-up call?" she asked.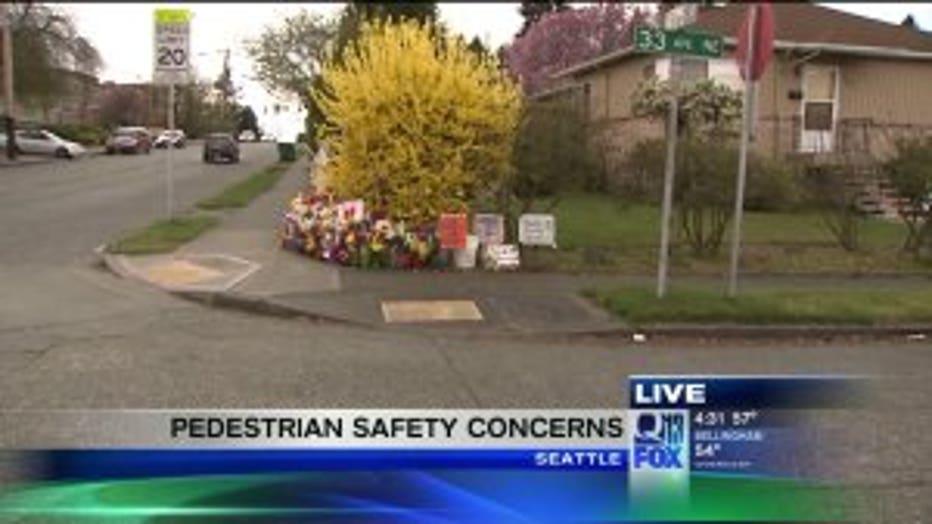 While the Seattle Department of Transportation and Mayor Mike McGinn have vowed to make changes at the intersection of NE 75th Street and 33rd, where the crash occurred March 25, Quinn said there are streets and intersections all over the city that are unsafe for walkers, with wide streets for speeding cars, thin sidewalks for pedestrians and not enough crosswalks.

SDOT receives thousands of complaints a year. More than 160 were filed in the last two months, many of them from people begging for crosswalks in their neighborhoods.

But SDOT's Rick Sheridan said responding to each complaint and concern is a tricky balancing act, "especially when you have arterial streets that are a main corridor of traffic."

"It's work to balance the needs of the community and reducing speeds, but also ensuring that you continue to have vehicles making their way along the corridor," he said.

The driver in last week's crash is accused of drunken driving, but neighbors said it is still a dangerous intersection and they are meeting the city and police to come up with some answers.

Quinn said she hopes it doesn't stop there.

"We need to make sure we're creating safer places, not waiting for someone to die to make sure changes happen," she said.