Seattle police seeking ID of bikers who allegedly attacked man in 'Bomb Squad Takeover'
SEATTLE -- Seattle police are trying to identify a gunman and a group of motorcyclists called the 'Bomb Squad Riders' who they say attacked an innocent motorist in the 7300 block of Aurora Avenue North.

It happened on Aug 26 during the 'Bomb Squad Takeover' in which riders from all over come to Seattle, but detectives recently discovered Go Pro video showing the assault and so are now asking for the public's help to identify the suspects.




The victim told officers he was driving northbound through the downtown viaduct when he saw a large group of motorcycle riders approaching him at a high speed.

"They pulled alongside him. They were doing wheelies. They were beating on the side of his truck," said retired Detective Myrle Carner with Crime Stoppers of Puget Sound.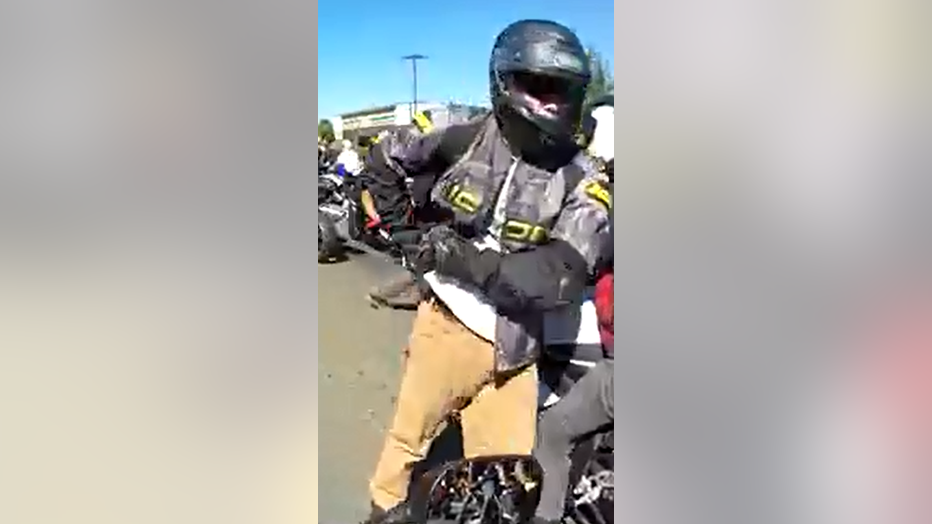 The victim slowed down to 20 mph and called 911 to report the incident. He continued to drive because he was worried about what the riders would do if he stopped. When he got to a stoplight in the 7300 block of Aurora Avenue North, the riders surrounded him, opened his door and started yelling at him, asking what his problem was. He told them they were "driving like A*******."

Without warning, police say, a suspect punched him in the face.

"They actually pulled him physically from the truck and started putting the boots on him and working him over," said Carner.

The victim tried to fight back until police say a suspect in tan pants and a gray motorcycle jacket walked up and pointed a gun at his head, saying something like, "This is what you get."

The victim put his hands up and then the bikers who saw the gun started to scatter but not before one of them stole the victim's truck keys.

The victim was bleeding and bruised when officers arrived.

"This is an assault. A very serious one and the guy could have died. Somebody knows exactly who did the assault, who had the gun," said Carner.

However, the Bomb Squad Riders issued a statement Wednesday night denying their members were involved in the incident.

"First and foremost, no members of the BombSquadRiders were involved in this 'assault case.' We don't condone or support any of this behavior. We simply post a date and a location for a 'flash mob' style ride. All riders come and ride at their own risk as they would I️f they were riding on their own, they are also encouraged to ride within the laws and have courtesy for other drivers.

"From the looks of the footage, the whole story isn't being told accurately. Unfortunately, we aren't sure who the unknown riders are or the suspected rider with the firearm..."

Crime Stoppers is offering a cash reward of up to $1,000 to anyone who can identify any of the suspects. Call the hot line at 1-800-222-TIPS or use the P3 Tips App on your phone or submit it at www.P3Tips.com. It is anonymous.