Seattle Police rifle stolen during summer riots found buried in Marysville backyard
SEATTLE - A Seattle Police Department rifle stolen during the riots on May 30, 2020, was found buried in the backyard of a home on Wednesday.
Police say it was uncovered in the 3100 block of 83rd Avenue NE in Marysville.
Marysville PD Officer Danielle Rusch responded to a call,  developed information on the rifle's location and contacted SPD. 
Seattle Police Robbery Unit Detective Mike Magan, ATF agents and Marysville N.I.T.E Team officers responded and obtained consent from the homeowner to search the property.
RELATED: Everett man accused of taking police gun in Seattle riot faces murder charge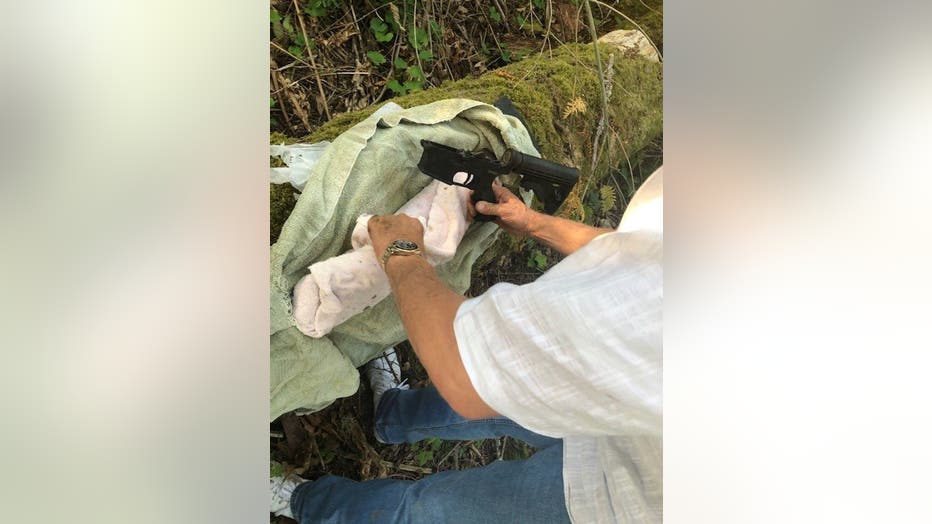 Photo of recovered SPD rifle courtesy Marysville Police Department
The Colt M4 rifle with a suppressor was found disassembled in a plastic bag that had been buried about a foot deep in the yard.
It was stolen as Seattle protests escalated in the wake of George Floyd's murder, resulting in the destruction of six patrol cars and the theft of five firearms.
"As partners in law enforcement, we sat nearly helpless watching the news coverage of police vehicles being lit on fire and criminals stealing firearms from them.  We are proud of the diligent work of Officer Rusch and her willingness to partner with SPD in ensuring that this investigation was seen through to the end," said Marysville Police Public Information Officer TJ San Miguel. 
Jacob D. Little, 25, is facing federal charges for possession of a stolen firearm. 
Seattle Police confirmed that all SPD rifles stolen during last year's riots have now been recovered.
Detectives say they previously interviewed a man who stays at the home who denied he had the stolen rifle.
No arrest was made at the home in Marysville but the investigation is ongoing and will be reviewed by local prosecutors and the U.S. Attorney's Office to determine whether any criminal charges will be filed. 
Stay connected with Q13 News on all platforms:
DOWNLOAD: Q13 News and Weather Apps
WATCH: Q13 News Live
SUBSCRIBE: Q13 FOX on YouTube
FOLLOW: Facebook | Twitter | Instagram