Seattle police release graphic video of officer shooting knife-wielding man
WARNING: The video below contains graphic content of a shooting




SEATTLE -- A Seattle police officer shot and killed a suspect believed to have rammed a patrol car on Interstate 5 earlier Friday morning, police said.

The police department late Friday released the dash cam video of the confrontation and shooting to back up initial reports that the suspect charged the officer with a large knife.

The King County Medical Examiner's Office identified the dead man as 27-year-old  Samuel Smith and said he died from multiple gunshot wounds.

The Seattle officer is now on paid administrative leave, pending the shooting investigation, which is standard procedure.

The shooting happened in the 6500 block of Ravenna Avenue NE around 4:30 a.m. Friday.

Police say a man in a gray Mazda rammed a patrol car from the back on southbound I-5  just south of Lake City Way about a half-hour earlier. The officer was treated at the hospital for minor injuries and released.

The suspect sped away, but another officer spotted a Mazda that fit the description about 30 minutes later in Ravenna, where residents woke up to the sound of gunshots.

"I heard about 3 or 4 shots then a shout," witness Sean Lutterman said.

A police officer had approached the suspect and identified himself. At the point, the man can be seen charging the officer with a large knife.

The officer backed away from the man and ordered him to drop the knife as the suspect ran toward him. The officer then fired several shots, fatally wounding the man.

Here is the graphic video:



Seattle Police say the investigation will determine if reasonable force was used but initial reports indicate the officer fired after feeling threatened.

"That is a tough call, if somebody was trying to attack me I don't know what I would do," resident Cameron Siemens said.

"I hope whatever happened, they get to the bottom of it," Siemens said.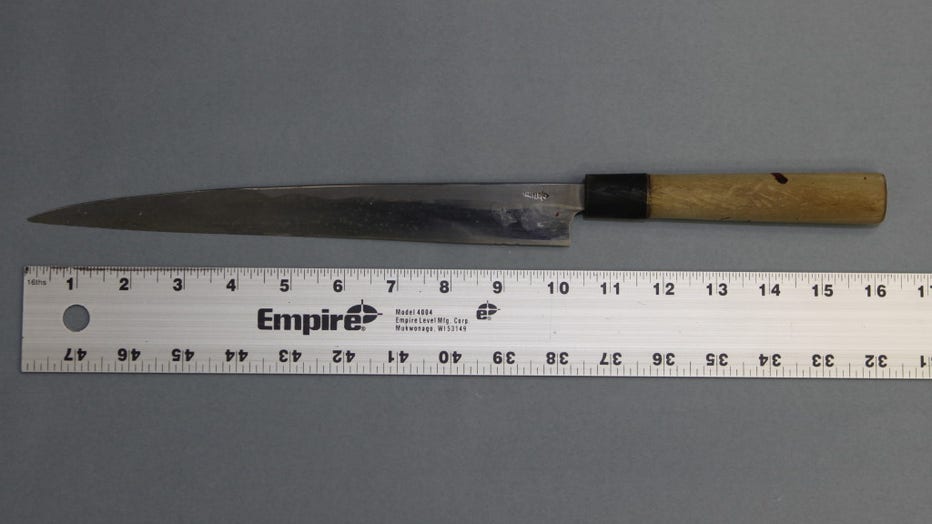 Police say this is the 10-inch knife that the man had raised as he charged a police officer. (Photo: SPD)


Investigators are now reviewing the case, gathering evidence and interviewing witnesses.

The Seattle Police Department is asking anyone with information related to Friday morning's events, or anyone who may have known Smith to call the SPD tip line at (206) 233-5000.