SPD: Man killed in attempted robbery, three suspects on the run
SEATTLE - Police are investigating a deadly shooting near Seattle's Mount Baker neighborhood Saturday night. 
Officers were called to responded to Rainier Avenue S and S Byron St around 8:25 p.m. on Saturday. 
Chief Adrian Diaz was on the ground after the shooting, and said officers were on scene within four minutes of getting the 911 call and found a man with a gunshot to his chest. 
Diaz said three people walked into a nearby Teriyaki restaurant and attempted to rob the man when one of the suspects allegedly shot the victim. 
The man was taken to Harborview Medical Center but died as a result of his injuries. 
It's unclear what led up to the shooting, though Chief Diaz mentioned there is hope nearby cameras may have picked up either the suspects or the moments before the shooting.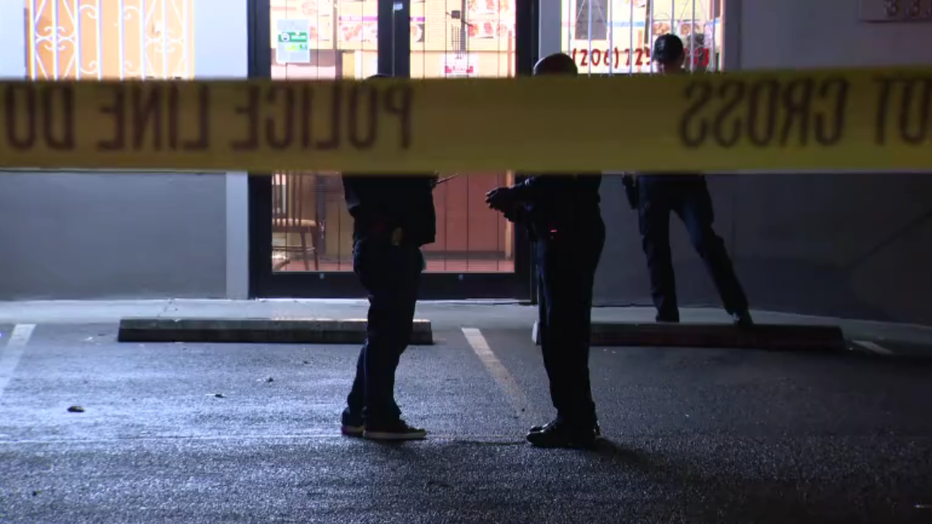 Police investigating outside of a restaurant in the 3300 block of Rainier Avenue South.
So far, there are no descriptions of the alleged suspects, as Diaz said all three suspect's faces were covered. 
"Already, this weekend has not been the ideal weekend," said Chief Diaz, noting a three people were shot Friday in the Capitol Hill area and another shooting an hour earlier left thousands without power in the Rainer Valley and Beacon Hill areas. 
Police were called out to the intersection of S Warsaw Street and 39th Avenue S around 7 p.m. 
Police say the victim in that case was grazed by bullet in the head. 
Officials say a transformer in the area was hit causing a blackout in the immediate area. 
RELATED: Oakley Carlson case: Mother released from jail, immediately arrested again on new charges
Get breaking news alerts in the FREE FOX 13 Seattle app. Download for Apple iOS or Android. And sign up for BREAKING NEWS emails delivered straight to your inbox.
Suspects have not been found in either of the shootings. 
If you have any information, you're urged to call the Violent Crimes Tip Line at (206) 233-5000.