Seattle Police Chief John Diaz stepping down


SEATTLE -- Seattle Police Chief John Diaz is stepping down from his post.

Diaz and Seattle Mayor Mike McGinn officially announced the chief's resignation during a press conference at 11:30 a.m. Monday at City Hall.

Diaz released a letter to the public shortly before the meeting. In it, he announced his retirement and thanked the "men and women of SPD." He said a 45-day transition period would occur before his retirement. Assistant Chief Jim Pugel would serve as acting chief of police until a new chief was appointed by the mayor and confirmed by the Seattle City Council.

Diaz, 55, has been in office since June 2010 and has been with the department for 36 years.His tenure was marked with interactions with the Department of Justice, which in December 2011 found that Seattle police officers engaged in biased policing and excessive use of force. The department also came under criticism again last week, when an independent review found the department had inappropriately handled last year's May Day protests.

The former chief spoke about "significant progress" the SPD has made on a path to reform.

"We have re-aligned the Department to achieve the reform objectives set before us and throughout the organization employees are working tirelessly to accomplish these objectives," Diza said.

Diaz said he recognized his department's troubles, saying "it's been tough from the beginning." Diaz's decision to retire was spurred by what he considered the start of a successful path for reform, he said.

"I wanted to make sure that our work, some of the interventions that we were working for were up and running," Diaz said. "Is there ever a perfect time? No. But it's the right time for me."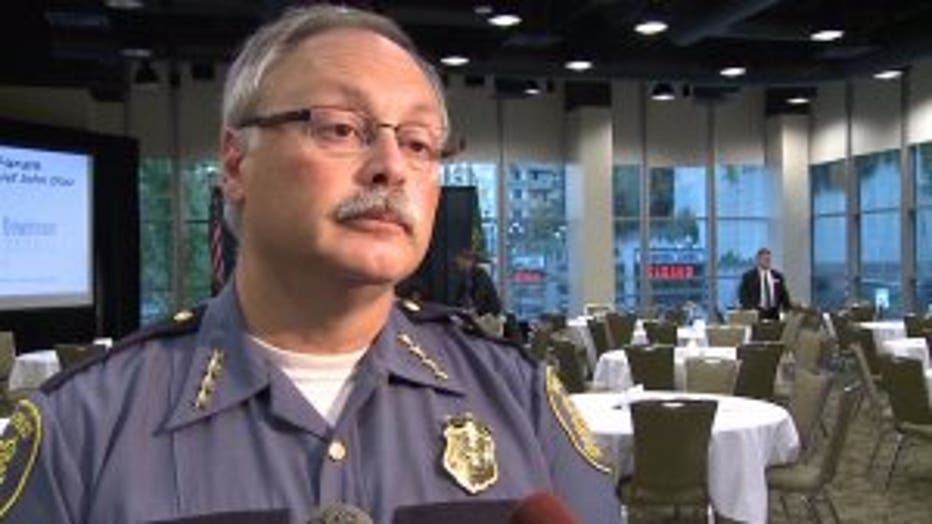 During the press conference, Mayor McGinn called Seattle a better, safer place under Diaz's service.

"Major crime is down 10 percent since he took control," McGinn said.

Interim chief Jim Pugel said he will continue to work on a path to reform that Diaz started, he said. Pugel has spent the last several years as the head of Homicide, CSI, Sexual Assault/Child Abuse and other services. He is a native Seattleite and lives in Seattle.

"I am pleased that Jim Pugel will serve as interim chief while we begin the process called for in the city charter for selecting and appointing a new permanent chief," McGinn said. "I meet several times a month with the command staff. i have had the opportunity to spend time with Jim, and I have come to appreciate his directness, honesty, integrity and progressive thinking. I am confident that Jim will uphold public safety in Seattle during the police chief search process and that he will keep our reform work on track."

City Attorney Peter Holmes said he looks forward to working with the interim police chief.

"I look forward to working with Interim chief Jim Pugel to continue to advance these critical reforms and to ensure that public safety remains our first priority for Seattle."

City Councilman Tim Burgess, who is challenging McGinn in the mayoral race, took a less than rosy outlook on Diaz's tenure.

"There was a lack of  decisive leadership and clear direction," Burgess said. "The May day report last week was scathing in its assessment of the police department's planning, management  supervision. It mirrored what the department of justice said to us in December of 2011. So, we have a lot of work to do."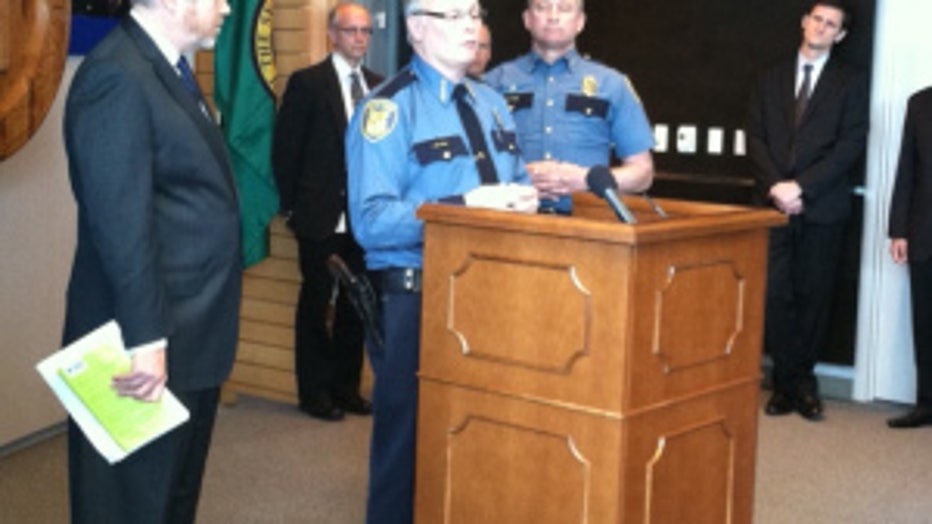 Here is the full text of Diaz's letter:

This is to let you know that later this morning I am announcing my retirement, effective the end of May 2013.

After thirty-six years in law enforcement, I can truly say that I am proud to have been engaged in the noble profession of policing, and prouder still to have been a member of this organization, the Seattle Police Department, for the last thirty-three years.

You, the men and women of SPD, are among the finest law enforcement professionals in the world. Your skills and ingenuity are matched only by your caring and dedication. It has been an honor to work with and around you for over thirty years, and in particular, to have served as your Chief for the last four years.

As I have contemplated retirement, I have done so with equal measures of profound admiration for, and supreme confidence in, you and the work you do. This is especially true with regard to achieving our primary mission as a police organization – fighting crime.

In the last twenty years, major crime in Seattle is down over 65%, with the reduction at 11% in just the last four years. But even when faced with crime challenges, you have consistently risen to the occasion, whether connecting the dots in events such as Café Racer or setting the stage for longer term investigations such as Oliver's Twist; whether trolling the internet to identify and rescue victims of child pornography and the sex trade or patrolling neighborhoods plagued with gunfire; whether balancing the safety and rights of those engaged in protests with those of the larger community or monitoring the behaviors and well-being of those whose homes are the streets; whether taking part in intricate tactical operations or extending small acts of kindness to residents and visitors to our city.

Every day each of you plays a part in making Seattle one the safest large cities in the country, and in doing so, you help this city and this region to thrive. You provide the safe and secure environment that allows Seattle to be one of the most productive economic engines in the nation. And you do this with an uncommon professionalism and level of service.

In our most recent survey of 9-1-1 callers who had an officer dispatched, for example, those surveyed ranked their level of satisfaction in dealing with SPD at 4.5 on a five-point scale where 5.0 is highly satisfied, and they rated the courtesy and professionalism of the responding officers at 4.7 on a five-point scale where 5.0 is high. Any organization would be envious of these ratings, but for a police department that is generally responding to conflict, injury or harm to receive them, is truly amazing.


My confidence and admiration are also fueled by the remarkable creativity and ingenuity you have brought to the job. This is seen in the many innovations for which SPD has been responsible: from the development of new approaches to address chronic problems such as the LEAD program for drug offenders, to bringing hope and redemption to sentenced offenders as exemplified in the IF Project, from the cutting-edge use of social media to inform and engage the public through "tweets by beat" and the SPD Blog, to the low-tech-bring-an-officer-into-your-home Living Room Conversations, from the exotic computer analytics that support our hotspot and violence-intervention strategies, to the painstaking, frame-by-frame review of camera footage that leads to identification and arrest of criminal suspects. Time and again you have shown the capacity to use the tools at your disposal and to work in partnership with others to make this city a safe place to live, work and visit. Seattle is indeed lucky to have in its police department employees with your level of dedication and involvement.

Finally, I am pleased and confident about where we are as an organization on the path to reform. We have in place a settlement agreement with the DOJ, a monitoring plan with the federal monitor and a newly formed Community Police Commission. We have made significant progress in achieving the many self-imposed initiatives embedded in the 20/20 Plan. We have re-aligned the Department to achieve the reform objectives set before us and throughout the organization employees are working tirelessly to accomplish these objectives. We are poised to make a number of new hires this year and these new officers will enter an organization fully engaged in the latest innovations in training, in use of force review, in crisis intervention and in the pursuit of procedural and social justice for all.

Through it all, I have seen you devote the same level of dedication, professionalism, courage and imagination to the matter of reform as you have to fighting crime and keeping this community safe. This is why I can depart this career and this organization with the level of confidence, admiration and pride I have today.

So, what happens next? First, there will be an approximate 45-day transition period. Then, upon my departure, Assistant Chief Jim Pugel will serve as Acting Chief of Police until such time as a new Chief is appointed and confirmed. As many of you know, Jim is a native of Seattle and a University of Washington graduate. With 30 years in the Department, he has wide experience and has worked in many parts of the organization. Jim still lives in the City he serves and is an excellent choice for Interim Chief.

Once again, I want to thank each and every one of you for the work you do, and for the skill, ingenuity and dedication you bring to your jobs. I am grateful to have been a part of a profession so integral to a democratic society and proud to have served with you in the Seattle Police Department, one of the finest, most effective, most innovative and most successful police organizations in the nation.

Thank you and God bless,

John Diaz
Chief of Police