Seattle poised to get tough on ride-share services


SEATTLE -- Ride-sharing services such as Lyft and UberX are taking off around the region as more people opt to get rides from fellow drivers as opposed to traditional taxi cabs.  But with that popularity comes more scrutiny.  The city of Seattle is poised to start clamping down on the industry with new regulations.

One of the most controversial is a plan to limit each ride-share company to only 100 cars, with no driver being able to work more than 16 hours a week.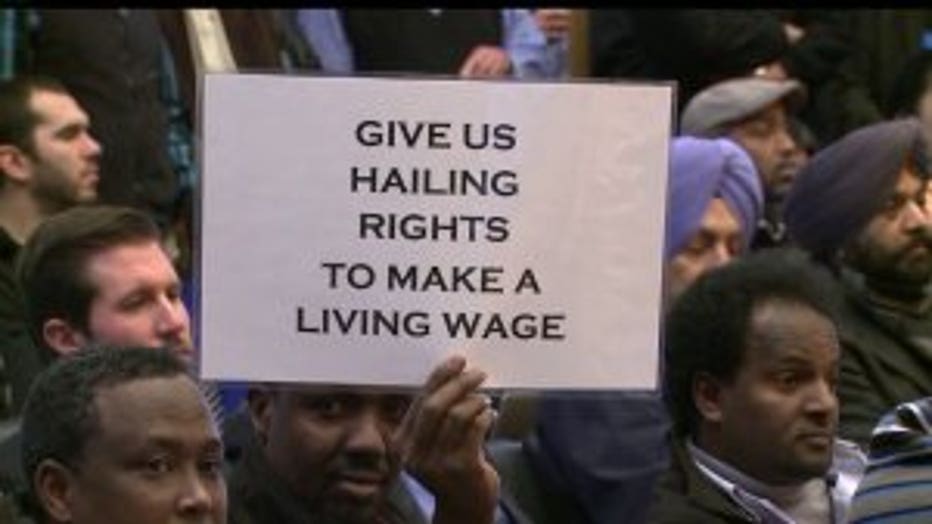 "I am driving anywhere from 35-50 hours a week, depending on how many hours are available for me to drive," said Frankie Roeder, who works for Lyft, the company whose drivers have the pink mustaches on their hoods.

Roeder makes it a full-time job and fears that limiting people like him to only 16 hours a week will just hurt those who need rides.

"If the service is going to continue to be as beneficial to the city, we need drivers on the road and we need people that are willing to do it full time," said Roeder.

Ride-share companies say these kinds of limits will doom an industry that is in its infancy and just getting started.

"If the caps are put in place on the number of drivers and the hours, it will shut UberX down and that option will be taken away from riders here," said Brooke Steger, general manager of Uber.  "We just think that is anti-competitive."

Traditional cab companies, which have seen their businesses suffer in recent years, support limits on ride-sharing. They are insistent that those drivers should be required to go through the same hoops as the heavily regulated taxi industry, where drivers have to obtain expensive licenses and carry commercial insurance.

"My guys have worked in the industry six, seven years to get these licenses," said Chris Van Dyk, manager of Green Cab Co.  "They have been willing to work subject to these conditions.  What did we do wrong?"

The new rules are expected to require new permits for ride-share drivers, including background checks and vehicle inspections.  Perhaps the thorniest question of all is insurance.  Just who is liable if a ride-share driver gets in an accident, even if they didn't have a passenger at the time?

"As soon as you turn on that app and show the public you are available to pick up a ride, I would consider that working," said Seattle City Councilman Mike O'Brien.  "You may not be making money, but you're working."

Ride-share companies say they are open to solving the insurance problem.

"We are more than willing to work with the city on this issue to make sure that we reach an agreement that everyone is comfortable with and everyone feels like there is a high level of clarity to," said Steger.

City lawmakers have some tough decisions to make in the next few weeks when it comes to reigning in ride-sharing.