Seattle mayor, mayor-elect both denounce DOJ letter 'threatening' city over sanctuary status
SEATTLE -- Mayor Tim Burgess said Wednesday that the city had received a "threatening" letter from the Justice Department expressing "concern" over a 2003 law that prevents city employees, including police, from asking about a person's immigration status, with limited exceptions.

Burgess said the city adopted the sanctuary law "so that no one would fear reporting a crime or approaching a police officer to request help, especially victims of domestic violence."

"Now, the Trump Administration is threatening to withdraw federal grant money from Seattle that is used to fund the work of three civilian crime prevention specialists in our police department," Burgess said. "It's ironic that a president who says he wants to reduce crime and help crime victims works to remove funding from programs that do exactly that.

"The same city ordinance chapter that the Trump Administration is using to threaten us also says city employees are directed to cooperate with, and not hinder, enforcement of federal immigration laws. Today's letter is more bluster and bullying by the president based on his ideologically driven fixation on immigrants and refugees," Burgess said.

Seattle Mayor-elect Jenny Durkan, who just won election to the mayor's office and who had previously worked for the Justice Department as the U.S. attorney for Western Washington, called the action "both immoral and illegal."

"It threatens the safety not just of our immigrant families but of all of Seattle which relies on the police resources they seek to cut. Unfortunately for the Trump administration, multiple federal judges have ruled that the Department of Justice cannot (be) withholding federal law enforcement aid to sanctuary cities.

"Seattle is and will continue to be a Sanctuary City, and our City will fight Trump every step of the way against these illegal attempts to withhold funds. I'll say it again: (U.S. Attorney General) Jeff Sessions and Donald Trump keep your hands off Seattle," Durkan said.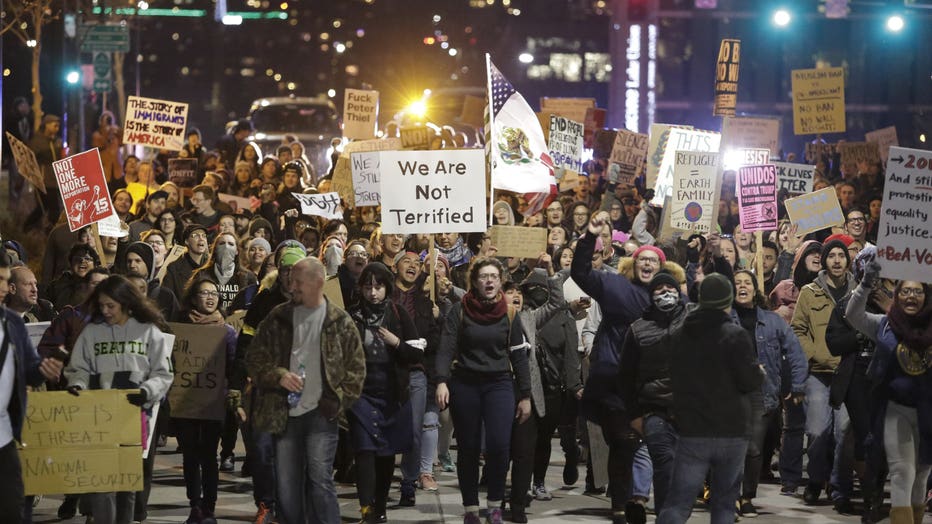 People march in support of immigrants and refugees in Seattle, Washington on January 29, 2017.(Jason Redmond/AFP/Getty Images)