Seattle mayor, King County executive sign NBA/NHL arena deal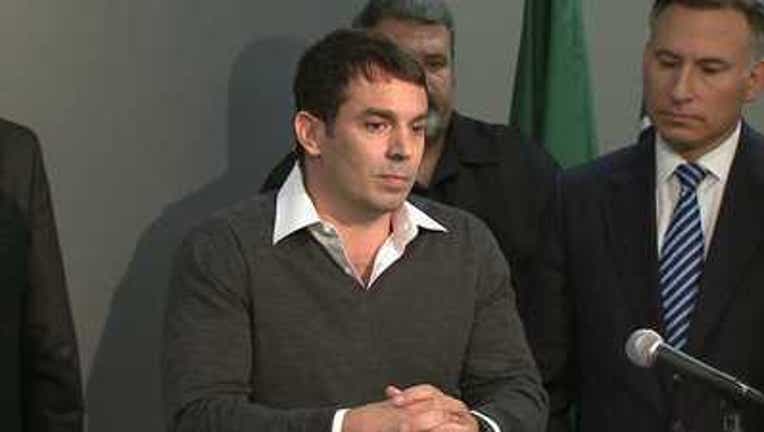 Seattle Mayor Mike McGinn and King County Executive Dow Constantine on Tuesday signed an agreement to use up to $200 million in public funds for a proposed $490 million NBA/NHL arena, with investor Chris Hansen putting in the rest.

Approval of the Memorandum of Understanding allows Hansen, a San Francisco hedge fund manager, to begin an environmental impact study and to look around for a new Sonics team to bring to Seattle.

Hansen wants to build the arena in the city's Sodo district, where he has already bought about $51 million in property, although the Port of Seattle and the longshoremen's union oppose that site and want it built elsewhere.

The King County Council approved the MOU on a 9-0 vote while the Seattle City Council approved it 7-2 Monday.

"While we still have a long way to go, this is is the most significant step the region has made to bring back the NBA since 2008," said King County Council Chairman Larry Gossett. "We have come this far because of the diligence of not only Chris Hansen, but also Executive Constantine, Mayor McGinn, both councils and the legion of fans who are working to return the Sonics."



County Vice Chairwoman Jane Hague said, "This begins the process of measuring environmental, economic and transportation impacts on not only the Sodo site but other sites that also may emerge."

The president of Local 19 of the International Longshore and Warehouse Union, Cameron Williams, said his union would file suit to stop the project.

"We cannot stand idly by while Mr. Hansen and his well-connected lobbyists, along with our elected officials, build an arena in a location that threatens the livelihood of our members and many other workers in the maritime industry and Sodo," he said in a statement issued last Friday.

The union says a new arena would create traffic problems and cost jobs, and it accuses the councils of not looking at alternative sites for such an arena.

The state environmental review, known as SEPA, is supposed to consider other locations, but the union local said, "Because only the Sodo site is acceptable to Mr. Hansen, the SEPA alternative process will be a sham."

In response to the lawsuit announcement, King County Council's Joe McDermott said, "I think we`ve all been careful to make sure we have a full, transparent SEPA process."

McDermott said that includes looking at several other potential arena sites.

"This gives us the opportunity to perhaps bring back an NBA team, the Sonics, to Seattle and NHL hockey as well," McDermott said. "Yet we`re still making sure we`re doing our careful work to make sure we have a full analysis of this site and more than would be typically required."

As part of the "memorandum of understanding," the city of Seattle would be asked to provide up to $120 million in bond money and King County up to $80 million if both NBA and NHL teams are secured. The money would be paid back over time from arena taxes and revenue.