Seattle mammoth tusk to be removed, given to Burke Museum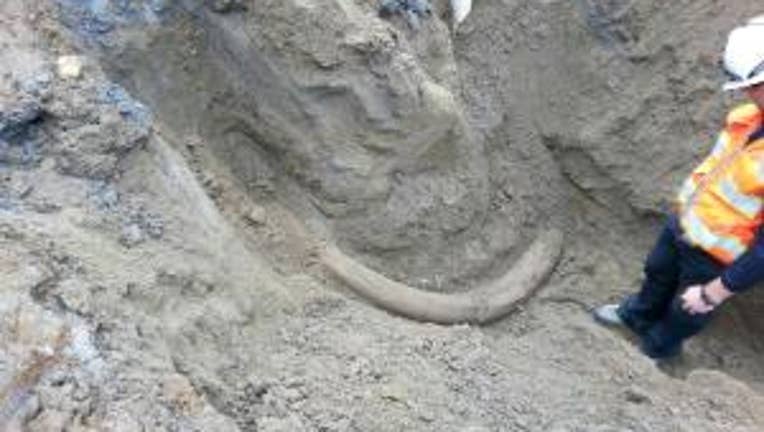 article
SEATTLE -- The owner of the land where an ice age mammoth tusk was discovered in Seattle has agreed to turn the historical find over Burke Museum paleontologists for examination and preservation, it was announced Thursday.

The tusk -- discovered by construction workers digging in Seattle's downtown South Lake Union area Tuesday -- was to be removed Thursday afternoon and transported to the museum. It was found near Republican Street and Pontius Avenue North.

"When our contractor informed us of this find, our first response was to determine how the community could benefit from this historical find," said Scott Koppelman, senior vice president of AMLI Residential, the land owner.  "The excavation will cause us some construction delay but the scientific and educational benefits of this discovery clearly outweigh the costs and delay. This is an exciting discovery for our local Northwest history."

The museum believes the fossil is likely a tusk from a Columbian mammoth (Mammuthus columbi). It appears to be the most intact and largest tusk found in Seattle.

Dr. Christian Sidor, curator of vertebrate paleontology at the Burke Museum, said, "Since the tusk is on private property, it could have ended up in a private collection.  We are very fortunate that AMLI contacted us to remove and care for the tusk.  Their decision to do so provides us and the general public with a great opportunity to learn more about mammoths in this area."

Sidor said that visible at the construction site is a "marker horizon," a blue-black layer that has a relatively well-understood age. Because the fossil is located approximately two meters below it, he said, Burke paleontologists estimate that the tusk is at least 16,000 years old, but could be up to 60,000 years old. Carbon dating the specimen would provide a definitive age.