Seattle logs hottest day of the year so far, as temperatures hit 93°


SEATTLE -- Is it hot enough for you? Record heat continues for the Pacific Northwest, but there is relief in sight. Q13 Chief Meteorologist Walter Kelley said temperatures should cool down by the middle and end of the week.

Many were above 94 degrees on Sunday and that set records at Seattle-Tacoma Airport's temperature gauge. 91 degrees was the old record and Sea-Tac got to 93 degrees -- that is about 15° above normal.

Record temperatures around the region:


Monday will be just as hot with highs in the lower 90s. The record for Monday is 92 degrees and Seattle should at least tie it.

Tuesday will be warm but just not as hot with highs in the 80s.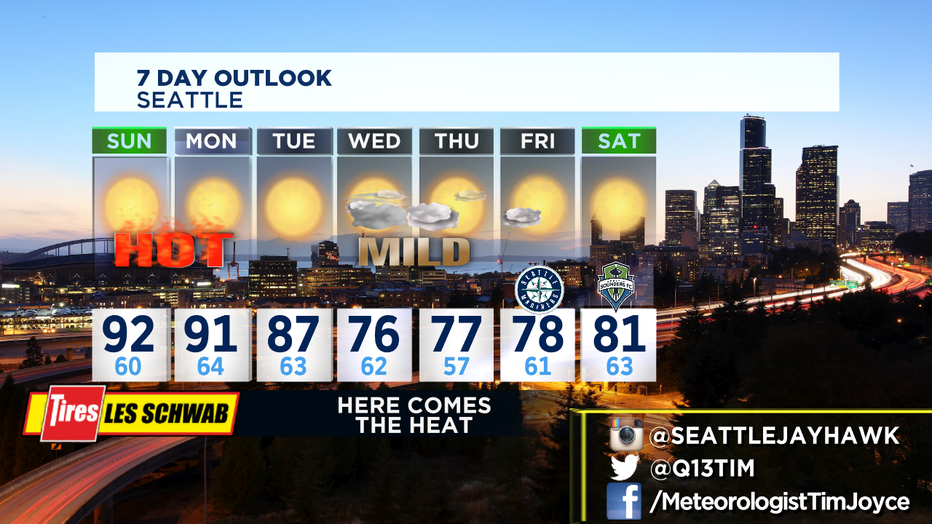 Wednesday and Thursday should be really nice with highs near 79 degrees.

Friday looks like our first marine push and that should cool Western Washington off into the mid-70s.

Saturday looks like it'll be around 74 degrees and Sunday looks closer to 80 degrees.

Right now, there is still no rain in the forecast but mountain storms look likely on Friday.

Enjoy this amazing weather!