Seattle gun buy back event draws hundreds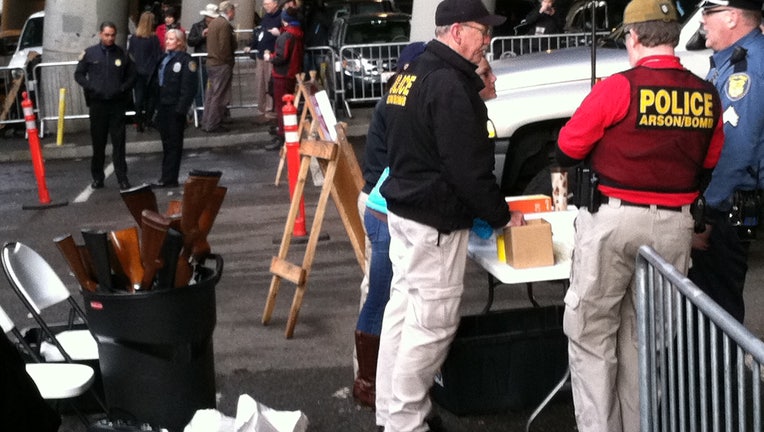 SEATTLE -- So many people showed up for Seattle's gun buy back event on Saturday that organizers ran out of gift certificates and had to end the event early.

Mayor Mike McGinn and Police Chief John Diaz were on hand as citizens descended on a parking lot to exchange their guns and assorted weapons. The guns ranged from pistols to assault rifles of various brands and conditions.

One person reportedly dropped off a Russian-made anti-tank rocket-propelled grenade launcher. Seattle police said a man had purchased the launch tube assembly for a Stinger portable surface-to-air missle.

When police spoke ot the man, he told them he had purchased the item for $100 from someone attending the event. The launch tube assembly piece is what holds the missile and is meant to be discarded after use. Police did not find a missile in the tube. They did take possession of the tube as it is not for civilian use.

Police said they will likely return the item to Joint Base Lewis-McChord, which is what they typically do with recovered military explosives.

The buy back event started at 9 a.m. and was scheduled to run until 3 p.m., and by 10 a.m., traffic was backed up on the Yesler Way exit off Interstate 5 as drivers headed to the event. By noon, organizers started to shut down the event.  

Based upon the event's turnout, organizers plan to hold another buyback event in the near future, police said.