Seattle could have the hottest July on record


SEATTLE -- Surprise surprise! Most of Western Washington will reach near 90 degrees Wednesday and the heat will continue to steadily climb through the upcoming weekend.

If you hear people saying, "this is summer, get over it!" Here are some stats to prove them wrong:

Who will see 90° today?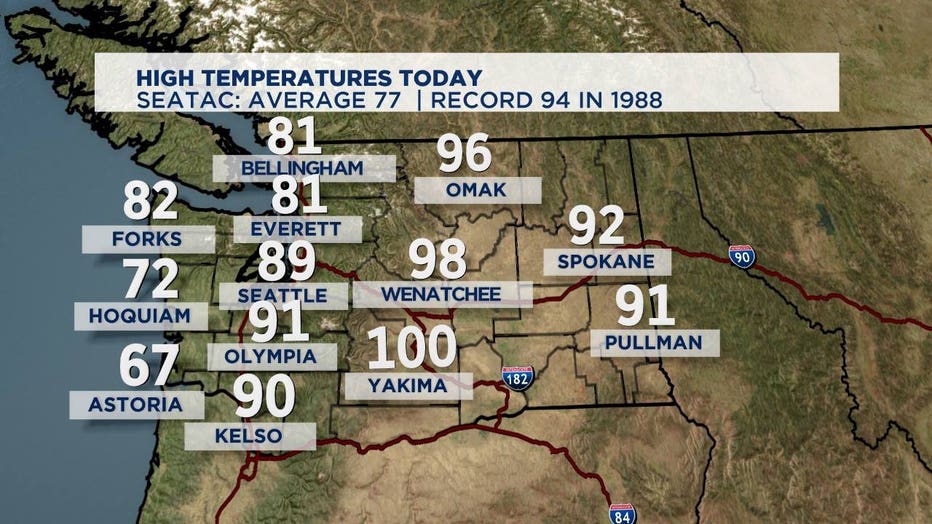 Seattle could reach 90°, but we're only technically forecasted to hit 89°.

But Bellevue, Tacoma, Olympia, Centralia, Toledo, Shelton, and parts of the South Sound will reach 90°.

Here's why this is happening: 

Our ridge of high pressure continues through Wednesday. This has promoted unusually warm temperatures --  about 10° above average everyday this week.

That strong ridging has really impacted the interior with very warm and dry conditions, but low level onshore flow around our Washington beaches has allowed for some coastal low stratus clouds to push a little farther inland. We've also seen some patchy fog.

For the rest of the week:

There's a little bit of a weak disturbance passing through Thursday and Friday. This is mainly only going to impact the mountains.

"I think there's going to be enough instability that there's a possibility we could see some isolated thunderstorms in the Olympics and north Cascades. Take note, if you're going to be hiking late week," Q13 Meteorologist Katie Boer said.

Our ridge starts to build again into the weekend, meaning another round of hotter temperatures is in store for the weekend, especially in the South Sound. A trough forming over the Pacific Northwest next week will likely push our ridge farther to the east allowing for a cool down and maybe -- a welcome relief and return to seasonal temperatures.

Extended forecast:

TODAY -- Sunny and hot! Temps. 10° above normal. Highs: 89°

TONIGHT -- Clear and warm! Lows: 64°

THURSDAY -- Sunny and hot. Flirting with 90s. Highs: 89°

FRIDAY -- Sunny and very warm. Highs: 87°

SATURDAY -- Sunshine. A return to the 90s. Very warm for Torchlight Parade. Highs: 90°

SUNDAY -- Sunny and hotter! Highs: 93°

MONDAY -- Slightly cooler. More sun. Highs: 88°

TUESDAY -- RELIEF!!!!! A return to seasonal! Partly sunny. Highs: 77°