Seattle considers more protected bike lanes for downtown


SEATTLE -- More protected bike lanes could be coming to downtown Seattle.

The proposal, which could open up more avenues for bicyclists, will get a full council vote later this month. The city's transportation committee voted in favor of the proposal Wednesday night.

Some Seattle City Council members say this measure will improve the safety of riders through the downtown area. They strongly agree with members of the cycling community that there are still a lot of gaps where bike lanes end, putting cyclists out into heavy traffic. Officials believe the dangers faced by bicyclists in Seattle are preventing more people from riding bikes, and steering them to their cars.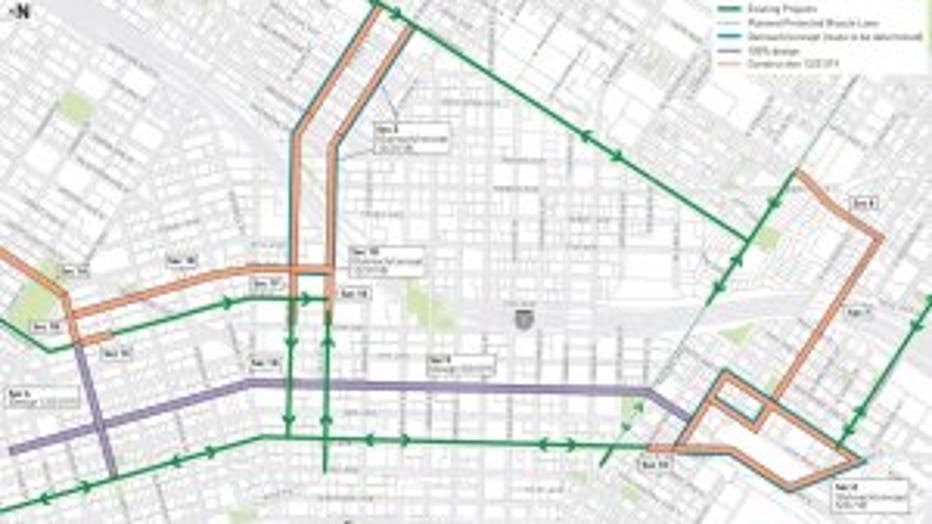 Courtesy: City of Seattle. Officials reviewing proposal for a full network of protected bike lanes through the downtown area.


This proposal would create a full network of protected bike lanes around the city and connect them to each other.

Supporters say it could relieve traffic and bring thousands more into the city on bikes because right now only the most dedicated are willing to ride downtown.

Now, this proposal would cost millions. Seattle Councilmember Mike O`Brien believes it`s already covered in the city transportation department's budget.

There are also a lot of challenges right now with several construction and road projects taking place in the downtown area. Officials are also worried about the possibility of losing valuable parking spots.

A full city council vote on the proposal is expected on July 30th.