Seattle City Council unanimously approves scaled-down employee tax


SEATTLE  — After weeks of tense and raucous meetings, the Seattle City Council unanimously approved (9-0) a controversial tax on the city's largest businesses in an effort to fight homelessness.

The council needed five votes to pass the measure and six votes to override a mayoral veto. They got nine votes.

In the end, the approved employee hours tax, or head tax, was a compromise between members of the council and Seattle Mayor Jenny Durkan.

The approved bill calls for a $275 tax per employee, per year on companies grossing more than $20 million in Seattle. That is down from the original bill, which called for a $500 per employee head tax. On Friday, Mayor Durkan signaled she would veto the original bill.

The approved legislation also included a sunset clause after five years, with renewal requiring a council vote in 2023.

A second amendment provided an exemption for hospitals and for healthcare providers that provide at least 25 percent of their services to patients covered by Medicare and Medicaid.

The tax would begin in 2019 and raise about $48 million a year to pay for affordable housing and homeless services.

Other cities have implemented similar taxes, but critics say Seattle's tax could threaten the booming local economy and drive away jobs.

Two state senators -- Republican Mark Schoesler and Democrat Mark Mullet -- said the city's move was a violation of the state constitution and that they would each seek to pass legislation in January to overturn the Seattle business tax.




Supporters of the bill say businesses that have benefited from Seattle's prosperity and contributed to growing income inequality can and should pay.

"We support any legislation where all folks who are affected are brought to the table. This policy does seem to have brought everyone to the table. The five-year sunset does put some pressure on the council for accountability," said Chris McClain, business manager for Iron Workers Local 86.

Michael Ramos, from the Church Council of Greater Seattle issued this statement upon hearing of the bill's passage:

"Noting the McKinsey Report saying a greater amount of money is needed for affordable housing/emergency services, we believe this measure is a start to address the challenges we face as a community in terms of low-income housing needed immediately and emergency services to homelessness issues."

Businesses and others say the so-called head tax is misguided and potentially harmful. They question whether the city is effectively using the tens of millions of dollars it already spends on homelessness each year.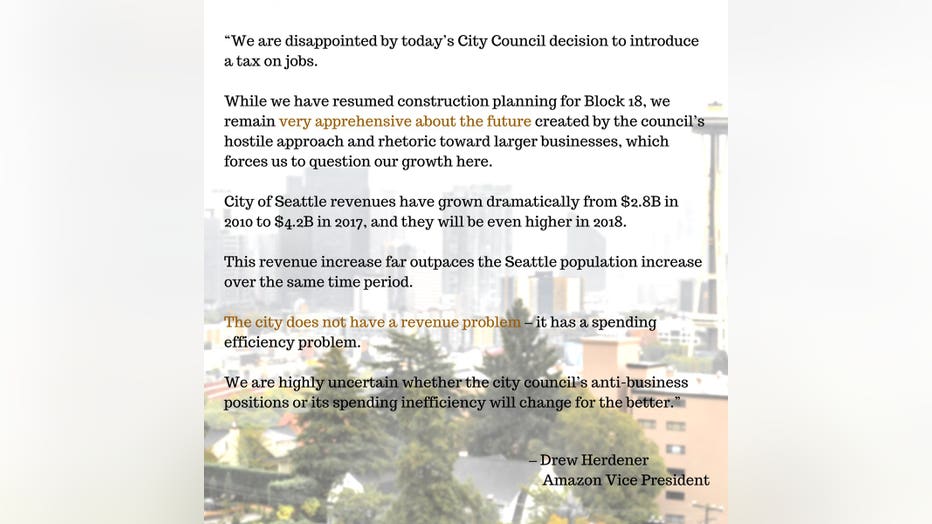 Amazon raised the stakes last month when it halted construction planning on a 17-story tower near its hometown headquarters as it awaits a tax vote. It is also rethinking filling office space in another leased building. The move paused about 7,000 new jobs.

Amazon's threat to pause its expansion in Seattle comes as 20 cities vie to lure the company's second headquarters and as it expands its workforce in Boston and Vancouver, British Columbia.




The Kirkland Chamber of Commerce Board of Directors also showed their opposition to the tax, "We acknowledge affordable housing and homelessness as an issue, but we oppose the head tax as a policy to address it, particularly without a clear plan to disburse funds. We urge the Seattle City Council to listen to the business community to protect economic stability and viability in the region."