Seattle City Council hopefuls rely on democracy vouchers to help fund race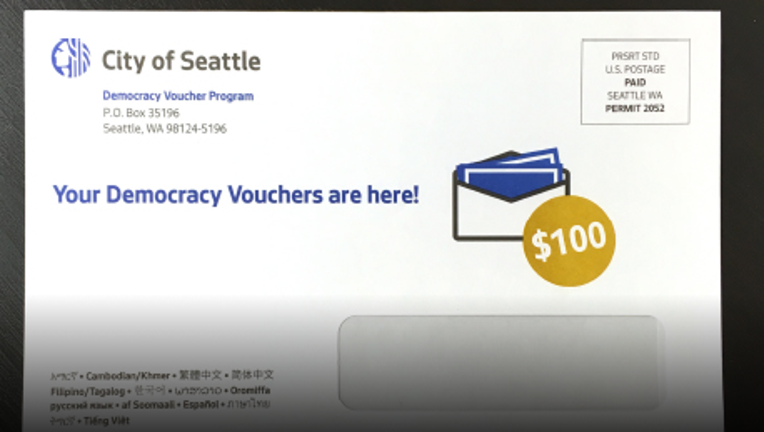 article


SEATTLE -- Less than three weeks before the November 7 general election, the Seattle City Council Position 8 race shows no signs of slowing down.

And if you haven't already, the candidates desperately want you to dig out your likely forgotten "Democracy Vouchers" and send them in.

The race between the labor-backed Teresa Mosqueda and socialist-favorite Jon Grant is tight, some polls show. Each candidate has relied heavily on Seattle's Democracy Voucher system both campaigns say; to the tune of more than half a million dollars.

The small slips of paper may be the key to launch Mosqueda or Grant into City Hall.

According to Grant's campaign manager John Wyble, Grant has maxed out his voucher limit at $300,000. So too has Mosqueda.

Voters approved the voucher program in 2015. But this is the first time the $100 vouchers are put into play. The $3 million program is paid for property tax increase.

Mosqueda says the vouchers have given people other than the ultra-rich an opportunity to run.

"I'm still paying rent, I still pay student loans," Mosqueda said. "I think the intent was to try to get more folks who aren't independently wealthy who have a job like I do to be able to see themselves running for office."

Seattle City Council Position 8 and 9 candidates will debate each other from 6 p.m. to 7:30 p.m. at the Seattle Public Library's main branch.

The program is presented by Seattle CityClub and Seattle Public Library. The event is moderated by Q13 News political analyst C.R.  Douglas.

The event is free to the public and will be live streamed on Q13 News' website.

Candidates will take questions submitted from Seattle residents.