Seattle City Council approves arena deal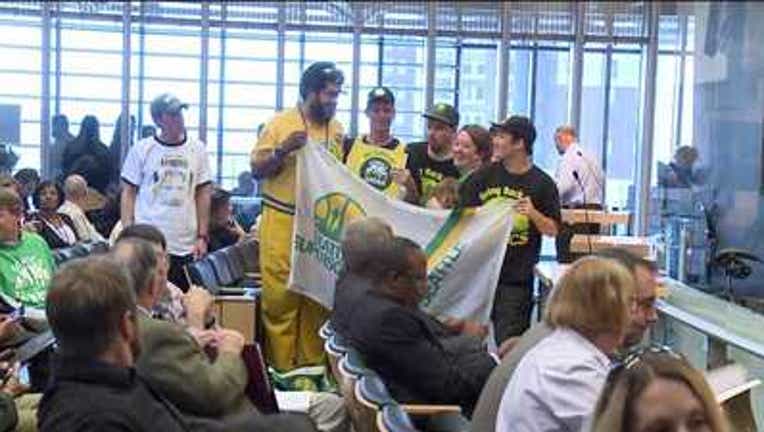 Seattle took one step closer to securing a NBA and a possible NHL team Monday, when the Seattle City Council voted 6-2 to approve a revised Sodo arena deal.

Councilmembers Richard Conlin and Nick LiCata voted against the deal that would build a $490 million arena in the Sodo district. But Mayor Mike McGinn, King County Concilmembers and others in the Seattle City Council lauded the effort to approve a revised Memo of Understanding between the city and and hedge fund manager Chris Hansen.

"I congratulate the city council for approving the memorandum of Understanding with Chris Hansen and his investment team to bring basketball back to Seattle," McGinn said in a statement.

Earlier this year, Mayor Mike McGinn and King County Executive Dow Constatine got the process started by reaching a Memorandum of Understanding agreement with Hansen that included $200 million of public money from the city and county for an NBA/NHL facility.



On July 30, eight councilmembers sent a letter to Hansen outlining areas of concern in the proposal and stating a desire to reach a positive agreement. Hansen went back to the drawing board offering more assurances, including an additional $40 million set aside to address traffic concerns around the Port of Seattle.

The version of the bill approved today by the city council included technical amendments, expanded public benefits and more funds for transportation, members of the city council said.

"Council staff, lawyers and council members have worked hard to produce an agreement that protects the city, charts the right site review process and secures appropriate public benefits," said Seattle City Council President Sally J. Clark.

Critics of the plan said traffic was already bad enough on game nights and could get worse. The Port of Seattle issued a statement Monday, reiterating its concerns that a new arena could hurt Port business. The Port asked for, "a thorough environmental, economic and traffic analysis review to understand the impact of proposed used."

King County Councilmember Bob Ferguson said the MOU approval gave Seattle residents a reason to cheer, but cautioned that the final step of the process wasn't over, as the revised plan needed to go back to the county council for reconsideration.

"Basketball and hockey fans in our region have reason to cheer today with he Seattle City Council approving a revised MOU, but the final buzzer hasn't sounded yet."

Sonics fans attending a rally Sunday were overjoyed in anticipation of a positive vote. Jay Berger said as a lifetime Sonics fan, he's happy to see an arena that could bring his boy-hood sport back to town.

"It means I'm going to be court side with a beer in my hand and a smile on my face," Berger said.

Big Sonics fan Kris Brannon, known as the Sonics Guy, called the day "a great day in Seattle Sports."

In more arena-related news, a four-member group from the Edmonton Oilers took a tour of Key Arena Monday. The group included the team owner and president and Wayne Gretzky.