Seattle Children's Hospital conducts 4 heart transplants in 5 days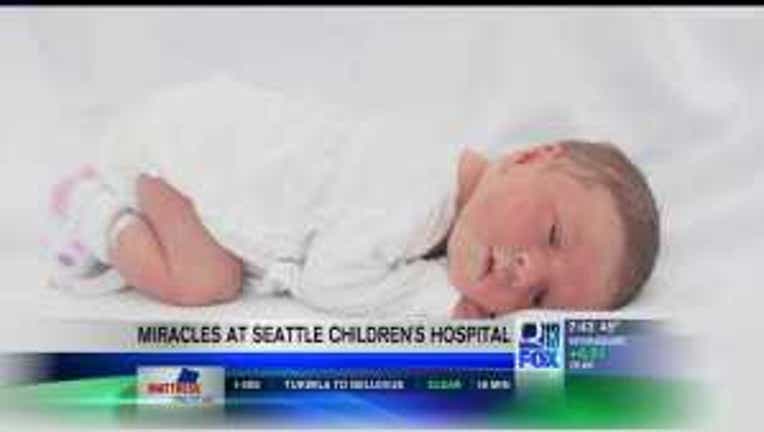 It's a rare, but incredible feat – four heart transplants in five days – but Seattle Children's Hospital was able to pull it off.

Anyone who has been inside Seattle Children's knows that miracles do happen. And what happened here in September, is beyond miraculous.

Ranging in age from four months to 14 years, Hannah, A.J., Brooke and Batul are four very sick kids who are waiting for a life-saving heart transplant.

Hannah, 4-months, A.J., 6-months, Brooke, 7-months and 4 month old hannah, 6 month old aj.7 month old brooke and 14 year old batul.

John Naab's 7-month-old daughter Brooke is one of those infants waiting for a transplant.

"When your heart is sick, your whole body is sick," he said.



Brooke was 7 days old when she was diagnosed with a rare heart defect that prevented her heart from pumping blood to her lower body. She underwent open-heart surgery when she was two weeks old. Brooke fought hard after the surgery, but she wasn't getting better – she needed a heart transplant.

"It was a tremendous team effort to keep Brooke alive," John Naab said.

Brooke was at Seattle Children's for four months -- through it all, she never stopped smiling and her bright blue eyes and colorful personality made everyone around her smile.

"She's truly been a fighter through this entire process," her father said. Then, they found a new heart for Brooke.

"It's an incredible feeling," John Naab said. "It's been a long 8-month battle for our family."

It wasn't just the Habb family that got lucky – within five days, four patients received new hearts. It's an incredibly rare turn of events, as the hospital typically conducts between 10 and 12 heart transplants a year.

"It always feels good -- whether it's one or four," Dr. Lester Permut, Interim Chief of Cardiothoracic Surgery, said. "It's a great feeling because these kids are usually the sickest of our patients."

"It was just an incredible surprise, that comes with mixed emotions because you know someone lost a loved one," John Haab said. "I can't imagine what that family went through. We are forever grateful for that family's courage and love to be able to donate such a precious gift. They were able to end our daughter's suffering."

Brooke is getting better by the day.Her parents are able to walk her around the hospital and soon she'll be able to go home.

"You feel like you've gotten your daughter back," John Haab said."We just feel so blessed now. Some people would say their lives were turned upside down in this situation -- I would say our world has been turned right side up."

Brooke still has a long road ahead of her and is required to take a lot of medications, but she's one step closer to living a healthy, normal life.

"She's always grabbing the instruments and putting her hands on it -- you never know -- she may end up being a doctor after hanging out with so many smart people here -- and that would be just fine by us," John Haab said.

There are currently six other children at Seattle Children's on the transplant list.

For more information on organ donation, you can visit the United Network for Organ Sharing.