Seattle-area leaders announce gun buyback
S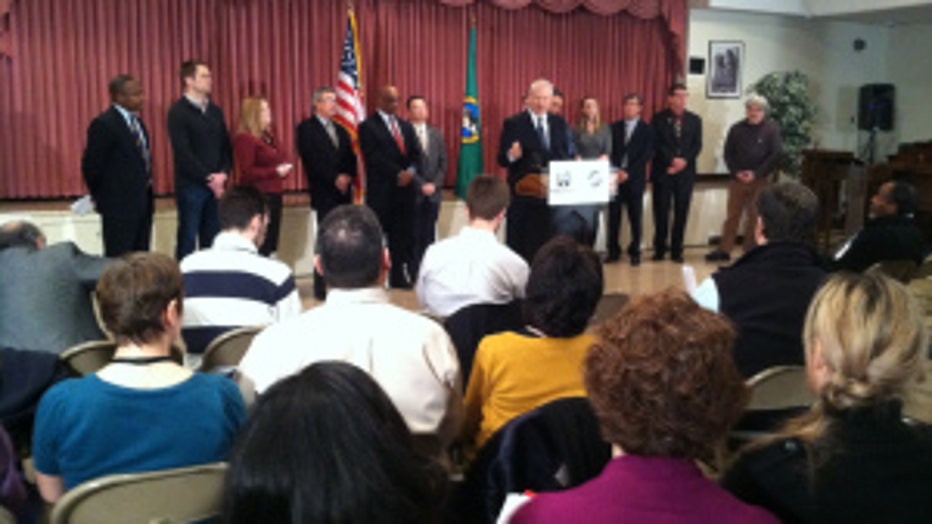 EATTLE -- A handful of Seattle-area leaders banded together Tuesday to announce a gun buyback program that would allow area residents to turn in their  unwanted guns in exchange $100-$200 gift cards.

Seattle Mayor Mike McGinn, King County Executive Dow Constantine, Seattle Police Deputy Chief Nick Metz and others unveiled the new gun safety initiative. The program is aimed at getting firearms off the street, while engaging communities with the goal of reducing gun violence, officials said.

The first buyback will be held from 9 a.m. to 3 p.m. Saturday, Jan. 26 in downtown Seattle in the parking lot underneath Interstate 5 between Cherry and James Streets. The Seattle Police Department will monitor the buyback.



Individuals who turn in guns will receive a gift card valued at $100 for hand guns, shotguns and rifles and up to $200 for assault weapons. The gift cards can be redeemed at Amazon.com, who committed $30,000 in incentives for the program, and other area stores.

Along with Amazon, PEMCO Insurance SEOmoz Seattle, 5 Point Cafe and big Mario's Pizza also contributed money for the program. Several nightlife business owners have also contributed, including, Neumos, Batch 206 Distillery and Havana have given money to the buyback program. Sponsors and private contributors contributed more than $100,000 to the program by Tuesday afternoon, officials said.



People outside of King County and Seattle will be able to turn in guns, officials said. The gun buyback program will remain anonymous. The SPD will also distribute free trigger locks for those who wish to secure their firearms safely.

Officials announcing the gun buyback said it was modeled after programs recently popping up in Los Angeles and other places across the country, largely in response to the mass shootings in Newtown, Conn.

"The gun buyback program can help us protect public health and safety and reduce gun violence in our communities," McGinn said. "We will continue working with the police department and other agencies on a broad range of solutions to the epidemic of gun violence."

Officials said a gun buyback program is one tool to help prevent shootings.

"If this prevents just one tragedy, it is worth the effort," Metz said.

Former Seattle mayors Greg Nickels, Norm Rice, Charles Royter and Wes Uhlman are serving as co-chairs of the program. Community partners of the gun buyback program include Cafe Racer, a restaurant site of a mass-shooting in Seattle in 2012, Associated Recreation Council, Mount Zion Baptist church and the Seattle Metropolitan Chamber of Commerce.

The last gun buyback program in Seattle was held in 1992. Cafe Racer's owner Kurt Geissell said he likes the idea of the gun buyback. After a mass shooting at his cafe last year, Geissell said anything to get guns off the streets is a good thing. He said patrons to Cafe Racer loved the idea, as well.

"When I casually mentioned we should do a gun buyback, $1,500 came in like that," Geissell said.

Studies in the past have shown that gun buybacks don't have much effect on murder rates. And taking a few thousand weapons off the street is just a tiny fraction of what is out there. But police said it's not just about getting guns away from criminals, it's also about getting guns out of homes.

"If we're able to take one unwanted gun out of circulation, we can guarantee at least one life will not be harmed by that gun," Metz said.

For more information on the gun buyback program, click here.