Search & rescue teams face tough assignments in Oklahoma


Help for the people in Oklahoma has been flooding in from all over the country, some in the form of Urban Search and Rescue teams.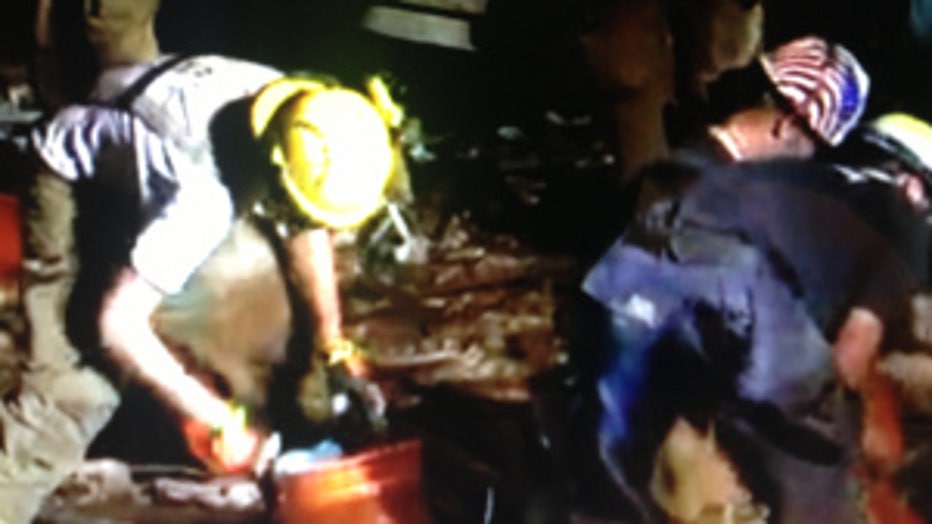 It's very technical, very physically demanding and emotionally draining.

On the ground, after dark at the Plaza Towers Elementary School where seven children lost their lives in the tornado urban search and rescue teams, some from the military, are working through the night hoping that someone will still be found alive.

Few jobs pull a person's mind and heart in so many directions.

"When you get out here and actually see all of the devastation and all the people that are affected by it, it really hits hard," Oklahoma National Guard Specialist Josh Graggert said.

Their training is invaluable and they have some of the best equipment money can buy.

They can see in the dark and hear a pin drop under tons of rubble.

They excel at urban search and rescue.

"We have rescue guys trained to do heavy rescue, that is they can cut through steal, break concrete, lift concrete slabs off of people and shore up to make it safe for our people to go down inside," Washington State Task Force One Search & Rescue manager Mike McCaffree said.

Mike McCaffree knows the job all too well.

He manages Washington state task force one, part of FEMA's National Urban Search and Rescue System.

Task Force 1 is one of only 28 FEMA urban search and rescue teams in the country.

When called they have to be ready to go in just two to four hours.

"We have world class search dogs that go in and look for scent of people.  We have equipment, we have cameras that can go down under the rubble and look for people and we have listening devices that we can put out so if someone is underneath tapping it will help triangulate where they are so we know where to dig," McCaffree said

That kind of expertise and technology is already on the ground in Oklahoma.

But sometimes being the best is not enough if team members don't take care of themselves and each other.

Long days and emotional ups and downs can take their toll even on some of the most seasoned veterans who, even as they work to help others, must be reminded to take care of themselves as well.

"We've seen studies where rescuers who are sleep deprived, it's like their driving drunk and their decision making gets bad.  It's just reminding them to take care of themselves because this is going to go on for weeks and weeks and weeks and months and if they burnout in the first week they haven't done themselves or anybody else any good," Special Operations Coordinator Randy Fay said.

Task Force 1 had one member deploy to Oklahoma Monday night.

Members come from local law enforcement, fire departments and hospital emergency rooms here in Washington.

They train as a team and once the deployment ends task force members come back and resume their jobs in the local communities where their expertise, and all that experience  is available  for all of us, right here at home.