Seahawks to lift suspension of Derrick Coleman after alleged hit-and-run crash


SEATTLE -- Seattle Seahawks head coach Pete Carroll announced Monday that the suspension on fullback Derrick Coleman would be lifted.




Coleman was arrested on Wednesday on suspicion of vehicular assault and hit-and-run in Bellevue. He's been released from jail, pending an ongoing investigation into the crash.

The team had suspended him until they could learn more information about the allegations.

"We will lift the suspension on Derrick Coleman. I think we'll find out what the timing is of that as soon as we can," said Carroll in a news conference Monday afternoon. "We really don't have a lot of information for you. We don't have any information for you about what is going on about the issues ... other than to know the basics and the fundamentals of it."

"We did see him, we have also seen the videotapes of his meetings with police, and so we feel like we are doing the right thing right now," he said.

We are gathering more information and will update this story here -- and have a live report on Q13 FOX News at 4, 5, 9, 10 & 11 p.m.

Dan Donohoe of the King County Prosecutor's Office said Friday the investigation will take at least a month, including the time to wait for full toxicology results.  A decision regarding charges will be made when the investigation is complete, officials said.

Bellevue police say Coleman was speeding at a high rate of speed when he hit a Honda Civic Wednesday evening.

The impact was so powerful it forced the Honda up an embankment where it flipped on to its roof. Police say a male driver of the Honda was seriously injured.

Witnesses told detectives that Coleman did not check on the injured driver but he took off instead.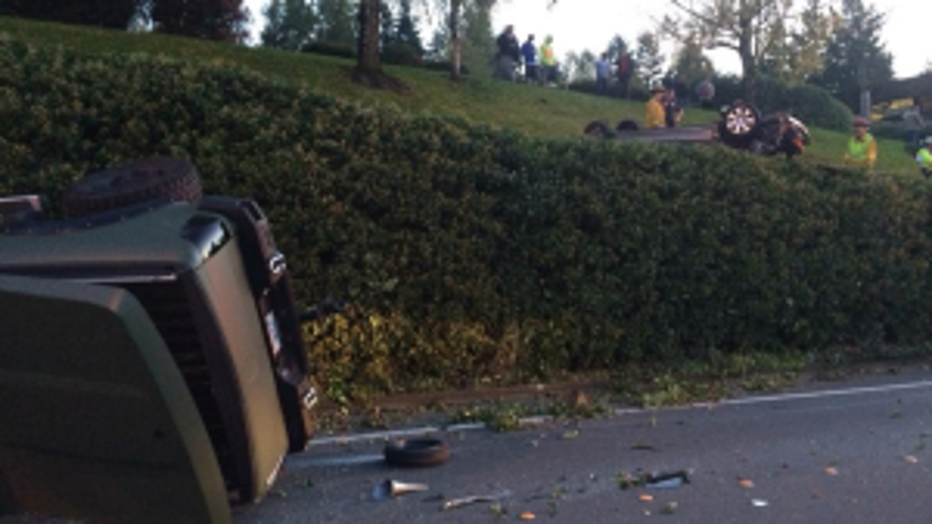 A picture of the crash involving Derrick Coleman late Wednesday.


A picture of the aftermath shows Derrick Coleman's Dodge Ram on its side and a Honda rolled over along SE 36th Street.

Detectives found the Seahawks player two blocks away standing along SE 37th street, barefoot.

Police say Coleman cooperated with an officer who approached him.

Three witnesses positively identified him as the man who left the crash scene. One of the witnesses told detectives he had helped Coleman out of the car after the crash.

Coleman's agents suggested Coleman may have fallen asleep on his way home from Seahawks practice.

"While the facts of the case are still being determined, it seems  Derrick may have fallen asleep while driving home from a Seahawks' facility," agents Derrick Fox and Mark Bloom said in a release.