Seahawks roll over Bills 50-17, continue hot streak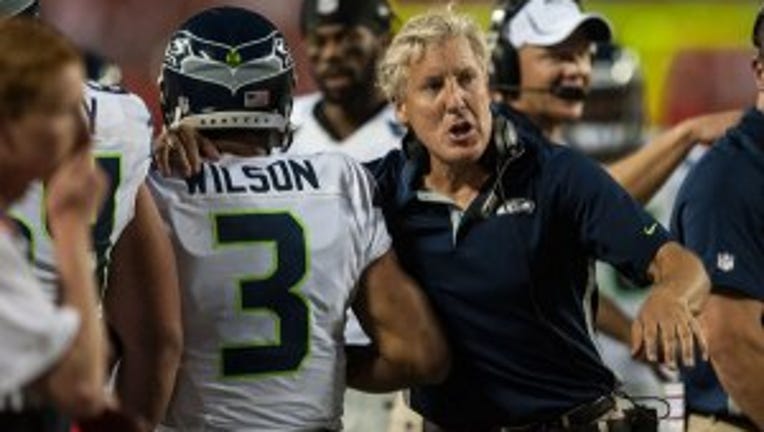 TORONTO -- Turns out the Seahawks offense can kick it into high gear north of the border, too.

Rookie quarterback Russell Wilson led the Seattle Seahawks to a 50-17 rout over the Buffalo Bills Sunday at the Rogers Centre in Toronto.

The Hawks, winners of five of their last six games, hit the 50-point mark for the 2nd straight game, becoming only the third team in the history of the NFL to do so.

And it was a game strangely reminiscent of the previous week's 58-0 win over the Arizona Cardinals.

Much like the week prior, the Seahawks looked comfortably in control of the game from the outset. Wilson and the offense marched down the field on the opening possession of the game, scoring on a 10-play, 76-yard drive. The rookie quarterback showed another strong performance on the road, going 14-for-23 with 205 yards passing and one touchdown.  He also managed his first rushing touchdown of the season, running into the end-zone three times in the first half, including a 25-yard run with 5:54 to go in the first quarter.

Marshawn Lynch continued to prove he was a force to be reckoned with, running for 113 yards on 10 carries with one touchdown against his former team.

Outside of a  short burst in the end of the second quarter, Buffalo failed to show much against a stellar Seahawks defense. Quarterback Ryan Fitzpatrick went 21-for-38 with two interceptions. The Hawks also forced three turnovers throughout the day, with safety Earl Thomas returning a 57-yard interception for a touchdown in the third quarter. And the Hawks, haunted by loppy play in the past, were penalized only four times for 32 yards.

Another big Seahawks win is sure to come with a bit of controversy, though. After head coach Pete Carroll was critiqued for allegedly running up the score against the Cardinals, Carroll again pulled some late-game trickery against the Bills. The Hawks faced a fourth-and-five on the bills' 44-yard line in the fourth quarter. Instead of punting the ball, the team ran a fake punt to fullback Michael Robinson for a 30-yard gain. Carroll celebrated with the Hawks on the sideline while Bills coach Chan Gailey looked less than enthused.

The Hawks (9-5) face off against division rival San Fransisco 49ers (9-3-1) next Sunday night at CenturyLink Field.