Seahawks lose Tate, Giacomini, Maragos in one day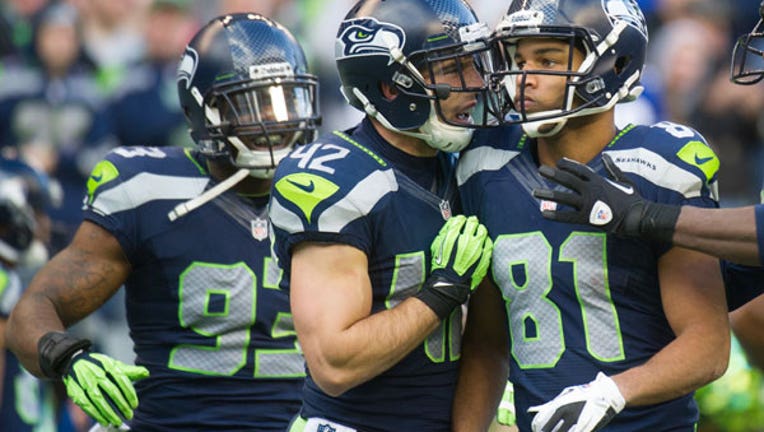 article
By Clare Farnsworth
Seahawks.com
RENTON, Wash. -- The Detroit Lions signed wide receiver/punt returner Golden Tate to a five-year contract Wednesday.
Tate was the leading receiver for the Super Bowl champion Seahawks in 2013, when he also ranked ninth in the league with an 11.5-yard average returning punts.
The Lions got an assist from the latest snowstorm to hit the Detroit area, as Tate could not catch his scheduled flight out on Wednesday.
"I came here and kind of hung out," Tate said during his introductory news conference. "I couldn't go anywhere because there weren't any flights outbound, which is probably a good thing. I had a chance to hang around here a little longer to give these guys more of a chance.
"Actually, they have a sleep room here, did you know that? With like three beds, three or four beds and it is comfortable. So, I got a nice little nap in and I woke up and the next thing I know I had a great offer on the table that I couldn't wait to jump on."
Also gone is offensive tackle Breno Giacomini and backup safety/special-teams standout Chris Maragos.
Giacomini agreed to terms with the New York Jets, whose general manager John Idzik was the former vice president for football operations at the Seahawks during Giacomini's first two seasons in Seattle. He started 12 games, including the Super Bowl, in 2013, though missed seven midseason games while rehabbing from knee surgery.
Maragos' agreement  to terms on a three-year contract with the Philadelphia Eagles was announced on the team's website, and included a "Ten Things You Need to Know About Chris Maragos" photo blog. For example: "Chris Maragos' father, Nick, was a free safety at Northern Iowa. His brother, Troy, was a former Bucky Badger mascot at Wisconsin."
The NFL Network reported that the two-year deal defensive end/linebacker O'Brien Schofield agreed to Tuesday is on hold because of an issue with his knee from the physical he took.
NFL.com reported that defensive end Chris Clemons, who was released by the Seahawks on Wednesday, is close to signing with the Jacksonville Jaguars – who are coached by former Seahawks defensive coordinator Gus Bradley.
A look at the players the Seahawks have signed and lost in the first two days of the NFL's free-agency period, as well as their remaining free agents:
Re-signed
DL Michael Bennett
C Lemuel Jeanpierre (restricted)
SS Jeron Johnson (restricted)
TE Anthony McCoy
Tendered
WR Doug Baldwin (restricted)
Agreed to terms with other teams
OT Breno Giacomini, Jets
DT Clinton McDonald, Buccaneers
FS Chris Maragos, Eagles
DE/LB O'Brien Schofield (pending to Giants) WR Golden Tate, Lions
Released
DE Red Bryant, signed with Jaguars
DE Chris Clemons (pending to Jaguars)
WR Sidney Rice
Remaining unrestricted free agents
CB Brandon Browner
TE Kellen Davis
K Steven Hauschka
QB Tarvaris Jackson
DT Tony McDaniel
OL Paul McQuistan
FB Michael Robinson
CB Walter Thurmond