Seahawks fans: You can't bring your 12 flags to the Panthers game (unless they're tiny)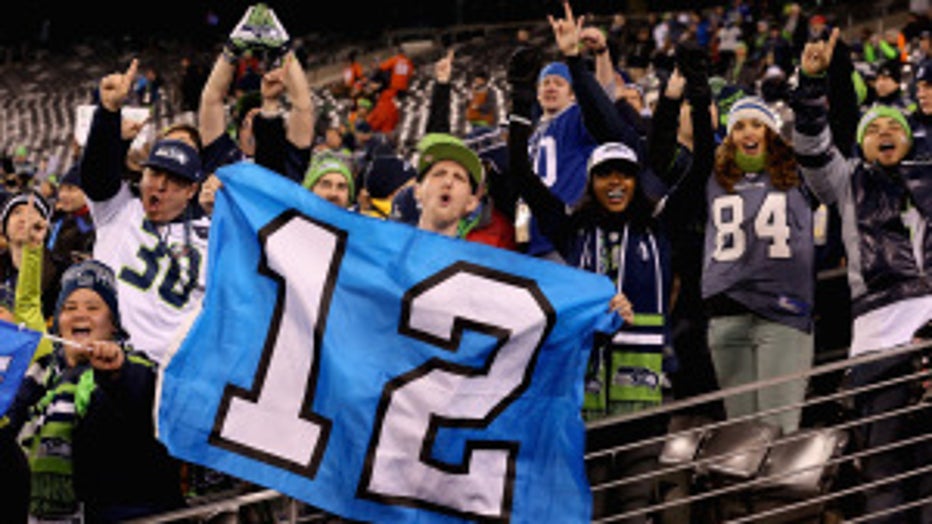 Seahawks fans celebrate after their team won Super Bowl XLVIII at MetLife Stadium on February 2, 2014 in East Rutherford, New Jersey. The Seahawks beat the Broncos 43-8. (Photo by Christian Petersen/Getty Images)


CHARLOTTE, N.C. -- The Carolina Panthers are warning fans that flags brought to Bank of America Stadium can be no larger than 2' by 2'.

The Panthers tweaked their banner and flag policy after Cam Newton tore down a Green Bay Fan's sign before Carolina's home win in week 9, according to the Charlotte Observer.

The policy still allows opposing team's flags and banners. They just can't be so large -- like the 8' by 3' Packers flag that ruined the fun for everyone.

"We did make some adjustments after the Green Bay game, and I think for a lot of reasons for what we may or may not see with the playoffs and Green Bay coming back," Scott Paul, Panthers' director of stadium operations, told the paper. "The policy is 24-by-24 (inches) and one person has to hold it. We don't want to get into conflict resolution. We don't want our people to be dealing with banners. We want them to help the customer.

"So if something's obviously larger than that 24-by-24 or obstructing someone from behind, our people will get involved. Otherwise, as long as it's a football-related message, we're going to allow it. That's really no change in policy. The only thing we changed was size."

To recap: Cam Newton, the Panthers' own quarterback, tore down an 8' by 3' Packers flag. Now fans, of all teams, are restricted in what they can bring to the stadium.

So there you have it.

Remember, Q13 FOX is your official home of the Seahawks -- with exclusive access to the team. Tune in starting at 6 a.m. Sunday for Q13 News and Seahawks Gameday, leading you to kickoff at 10:05 a.m. It's all on Q13 FOX!