Seahawks fans flock to San Francisco for Sunday's fierce rivalry
SEATTLE -- It's a crazy scene in San Francisco, ahead of Sunday's Seahawks/Niners game. There are thousands of 12th Men and Women there, looking forward to witnessing the Hawks clinch the NFC West Championship at Candlestick Park.

You would think, at 11-1, the Hawks would have gained some respect on the eyes of the 49er faithful.

Not so much.

"The SeaChickens are going down!" says Larry Sherman of San Jose, a member of hardcore fans known as "Niner Empire."

"This is called a Lombardi Trophy," Sherman said, holding a replica of the NFL Chanpionship trophy. "We have five of them! How many do you have in Seattle? Oh, right. Zero!"

The Niner Empire Headquarters is located inside Mancave Memorabilia in San Carlos. They allowed me to be the first 12th Man to sign their wall. They will probably just white it out, but I gave it a whirl.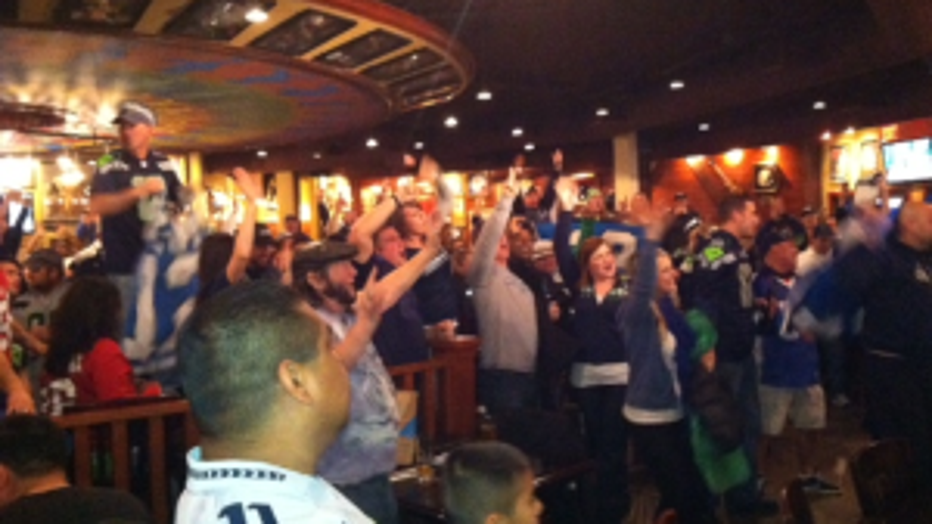 I then hightailed it to more friendly confines. The Hard Rock Cafe on Pier 39 in San Francisco has been taken over by thousands of 12s and transformed into Hawk Central.

"Sea-HAWKS! Sea-HAWKS!" The faithful are chanting.

"I've been to every road game this season, and every week there are more and more fans. It's incredible!," exclaimed Gary Moore from Port Orchard.

The Hawk fans will be well represented Sunday.  Hawk fan Cedric Morris raised money to fly a 12th Man flag behind a plane over Candlestick Park just before game time. The 49er fans are aware of this. They are raising money to place a 49er billboard in downtown Seattle.

Sunday, though, the Seahawks and the 12th Man are hoping to make another kind of statement. On the field.