Seahawks fail to hold off Dolphins late, lose 24-21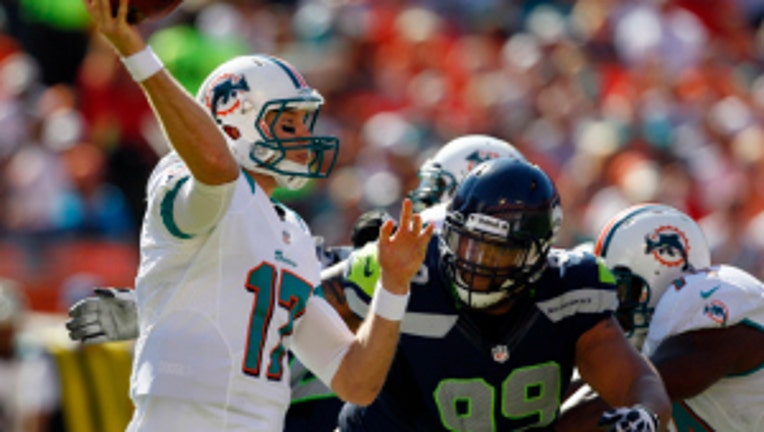 Maybe it was the long flight.

The Seattle Seahawks failed to overcome a late surge from the Miami Dolphins Sunday, and fell to 6-5 on the year after losing 24-21 in Miami on a last-second field goal.

The Hawks started slow on four-straight three and out possessions to open the game, and trailed the Dolphins 7-0 most of the first half. But the team seemed to return to form in the closing minutes of the 2nd quarter, capping a 9-play, 80-yard drive with a 3-yard touchdown pass from rookie quarterback Russell Wilson to Anthony Mccoy with 36 seconds left.

Seattle kick returner Leon Washington also managed to break free for a 98-yard kickoff return with 8:08 left in the game. But the lead wouldn't hold.

The Hawks defense struggled late, giving up a 29-yard TD pass from Miami's rookie quarterback Ryan Tannehill to Charles Clay to tie the game at 21-21. Then, Tannehill led the Dolphins on an impressive 64-yard drive with less than two minutes to go, setting up a 43-yard Dan Carpenter field goal at the end of regulation.

Tannehill, who has struggled in previous starts, went 18-for-26 in the game for 253 yards and one touchdown.

The loss continued the Hawks' road woes,  and the team fell to just 1-5 on the season for road games.

In a game that featured good performances from both rookie quarterbacks, including 16 completed passes in a row from Wilson at one point, it was the Seahawks running game that never got off the ground.

Star running back Marshawn Lynch had 19 carries for only 46 yards, averaging just 2.4 yards per carry.

The Hawks were also stifled by 10 penalties for 59 yards, including a roughing the passer penalty that negated a pivotal interception in the fourth quarter and led to a Miami touchdown.

The Hawks will head to Chicago next Sunday to face the Bears (8-3) at Soldier Field.