Seahawks cruise past Raiders 22-6 for 9th straight preseason win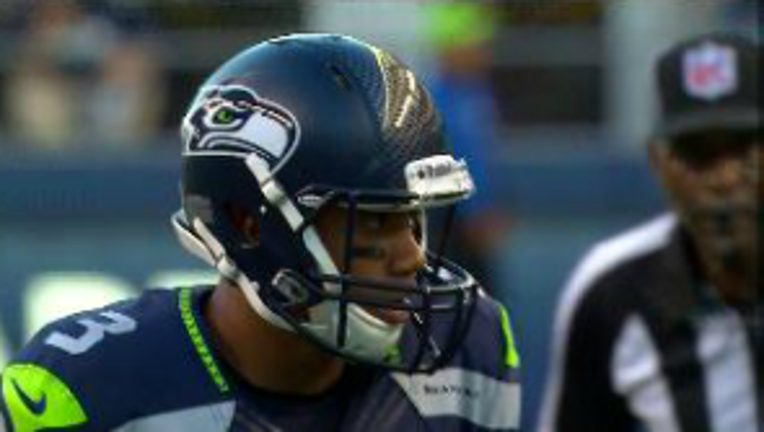 SEATTLE – Make it official:

The Hawks look ready for the regular season.

The Seattle Seahawks chalked up their team record-breaking ninth preseason victory in a row with a 22-6 win over the Oakland Raiders Thursday night at CenturyLink Field.

In a night that saw five field goals from Seahawks Kicker Steven Hauschka, including three from more than fifty yards, the Hawks held the lead for the entire game.

Starting Quarterback Russell Wilson led the team on a 6-play, 80 yard opening drive capped with a touchdown on a 3-yard run from Robert Turbin to get the game off to a quick start. But Wilson quickly left the game in order to keep his legs, and arm, healthy for the first regular season game at the Carolina Panthers on Sept. 8.

But while Wilson's job was solidified a long time ago, backup quarterbacks Brady Quinn and Tavaris Jackson battled for the number two spot. Jackson again looked strong, going 12-for-17 for 119 yards and no interceptions. Quinn also held his own, going 8-for-15 With 110 yards.

On the opposite side of the field, however, the choice for quarterback wasn't quite as enviable. With former Seahawks Quarterback Matt Flynn struggling in his last game with the Raiders – throwing two interceptions in six attempts – and a sore elbow, the Raiders started sophomore quarterback Terrelle Pryor. Pryor showed his scrambling abilities, rushing for 48 yards, but looked uncomfortable in the pocket, going 3-for-8 with a long interception to Walter Thurmond in the first quarter for the Hawks' only defensive turnover of the game.

In a season of high expectations, the Hawks need to cut their roster from 75 to 53 players before the Week 1. Some minor injuries hampered the Hawks, with preseason star Steven Williams being knocked out of the game with a concussion and defensive tackle Michael Bowie out with a shoulder injury. Williams did manage to get a 50-yard catch right before he left, however, perhaps garnering himself a spot on the 53-man roster.

Penalties, which have plagued the Hawks in their first three preseason games, remained a bit of an issue, with the Hawks losing 65 yards on 8 penalties, most of which came in the 2nd half.

The win marked the Seahawks second-consecutive undefeated preseason.

Tune in for Seahawks Saturday Night on Q13 FOX at 10:30 Saturday for a preview of the Sept. 8 game against the Panthers.



Live Blog Updates

[9:31] -- Raiders are steadily driving late here in the game. We're going to pull back our live updates a bit unless we see some major plays. Remember people -- Go Hawks.

-- Tyler Wilson is in at QB for the Raiders. McGloin went 5-for-7 with 41 yards and a passer ratting of 86. We're starting to see penalties like neutral zone infractions as some of these deeper players are playing for their position on the team. The Hawks have given up 7 penalties for 60 yards, and are still hampered by unfortunate, untimely plays.

-- Can we please start calling him the Man with the Golden Leg? Hauschka hit a 53 yard field goal for his fifth of the game. He puts the Hawks up 22-6 with 13:52 left in the game.

Fourth Quarter --  The 12th man is getting ramped up as the Hawks look to win their 9th straight preseason game. Quinn is still behind the center on the Hawks' own 28. He's gone 5-for-9 with 81 yards and a passer rating of 85.9 so far.

-- Again, we call him the man with the golden foot. Hauschka steps it up and hits his fourth field goal of the night, this one from 43 yards out. Hawks are up 19-6 with 1:15 in the 3rd quarter. Seahawks are staring down the pipe at 9 straight wins in the postseason.

-- Sorry we've stepped away for a second. We've been too busy updating that sweet photo gallery up top from photog Chad Bailey.

-- Seattle returns a punt but gets a penalty. Penalties are a little better this week, with 3 penalties for 17 yards.

-- Brady Quinn takes over at QB to start the 2nd half for the Hawks. Jackson looked strong, going 12-for-17 with 119 yards passing. Quinn is widely regarded as a different time of quarterback than Tavaris and Wilson, typically staying in the pocket.

-- Raiders start the 2nd half with Matt McGlonin behind center. Pryor ended his time going 3-for-8 with 31 yards passing and a quarterback rating of 9.9. He showed some brief streaks of flashy running ability, but was largely ineffective.

Hawks lead 16-6 at the end of the 1st half. 

-- Jay. Medlock hits a 37 yard field goal at the end of the 2nd half to put the Raiders within 10. Hawks still lead 16-6 at the end of the 1st half.

-- We're seeing a lot of 2nd and 3rd stringers in now, trying to prove their worth as the team will look to cut 11 in the next few days. The defense gives up a 32-yard run to Jennings to put them on the Hawks' 39.

-- Hauschka hits two field goals over the 50-yard mark. Makes it look easy. Puts the Hawks up 16-3 with 3:59 to go in the first half. Again, you like to have a strong leg on the team. How many times have you seen an N.F.L game come down to a last second field goal.

-- Jackson pass incomplete to WR Chris Harper. Hate to see a drop ball  like that, especially on the last preseason game. I'm not sure what Harper's status with the team is, but that can't be good come cuts. Jackson zipping the ball down the field.

-- Another defensive turnover for the Hawks! Walter Thurmond pics of Pryor on a deep ball intended for WR Ford. The Hawks will get the ball on their own 30. The Hawks have dominated in turnover ratio this preseason. Thurmond is a fourth-year player, who has had a hard time getting regular playing time. But he looks strong.

-- Hauschka hits from 22 yards out to put the Hawks up 13-3 with 10:14 to go in the 2nd half. The 56-yarder earlier was impressive. We'd like to see him get a shot from 60-plus yards out.

-- Jackson scrambles on third down from the Oakland 19 for 10 yards. Not sure if you like to see a quarterback scramble so much in the preseason, but he's trying to prove himself for the job. He's loved in the lockeroom, good on the field, but is he back up material over Brady Quinn. We'll find out this week.

-- Hawks complete on 3rd-and-8 but come short. However, the Hawks convert the 4th down with a Jackson two yard run. Gotta say, he wouldn't be a bad back up if something happened to Wilson. IF something happened.

2nd Quarter -- Hawks look to keep moving down the field at the beginning of the 2nd quarter. Fighting strong on the Raiders' 35. Hawks are challenging a call on the field that Sean McGrath dropped a pass.

-- Hawks get the ball on their own 20 with Jackson behind center. Seahawks tweeting that Tackle Michael Bowie has a shoulder injury and his return is doubtful.

-- Pryor sacked at the 27 for a 7-yard loss. Raiders have to settle for a 45-yard field goal from J. Medlock. Raiders on the board with 10-3 with 3:12 left to go in the 1st quarter.

-- Fast, huh. Pryor scrambles on 3rd down for 25 yards. Keeps the drive alive for the raiders at the Seahawks 20.

-- Pryor looks quick on his feet on their second drive. He was flushed out of pocket on 2nd and 7 but completed a long pass to WR Streater. Exciting to watch a guy with such athletic ability. Does he remind you of anyone?

-- Steven Hauschka is pretty good, huh? Hauschka hit a 56-yard yarder to extend the Hawks' lead to 10-0 with in the 7:06 to go in 1st quarter. It's nice to have a guy with a strong foot.

-- Bad news for the Hawks. WR Steven Williams headed to the locker room to be evaluated for possible concussion. Love the tall monster, hope everything checks out OK. Tackle Michael Bowie also walked off the field with an apparent shoulder injury.

-- Wilson out, Tavaris Jackson in at QB for the Hawks. Jackson is battling with Brady Quinn for the back-up QB spot. He's had a strong postseason so far, with epic precision and some long balls to WR Steven Williams.

-- Raiders forced to punt on a 3-and-out. Walter Thurman has a strong run-back into Raiders' territory. This special teams has looked strong all preseason.

-- Raiders will start their first drive with Terrelle Pryor in at QB on their own 20. Matt Flynn is out with a sore shoulder.

-- Robert Turbin draws first blood for the Hawks on a 3-yard-run to put the Hawks up 7-0 with 11:58 to go in the 1st quarter. Wilson and the Hawks looked perfect in their first drive, with Wilson going 3-for-3 with 68 yards on a 6-play, 80-yard drive.

-- Wilson hits TE Luke Willson on a third-and-short for a long first down.

-- Boom! Stephen Williams continues his dominance this preseason with a 50 yard pass from Russell Wilson. Was that sweet or what?

-- Kickoff! Wilson and the team will get the ball on their own 20 to start the game against the Raiders. Wilson is looking to make up for a couple miscues last week. The starting offense is not expected to play too much, so this first drive could be the only time we see them.